Book an appointment on Philippine Embassy Wellington New Zealand

Mabuhay Kababayan!
You are on your way to use the official appointment systems of the Philippine Embassy in Wellington, New Zealand. Click on the consular service you wish to book online:
Passport
Affidavit / SPA / Authentication / Notarials

I. Passport
Since 01 December 2021, the DFA has taken over the management of the Embassy's appointments for passport services through its Global Online Appointment System (GOAS). This is a change the DFA is implementing worldwide at all Philippine Government Foreign Service Posts.
Please read the steps in the inforgraphic below for complete instructions on how to use the system. It is strongly recommended that you ensure completing step #11, i.e., "Print the application packet from the Confirmation Email" before finalizing and paying for your flight booking or other travel arrangements, to visit the Embassy in Wellington.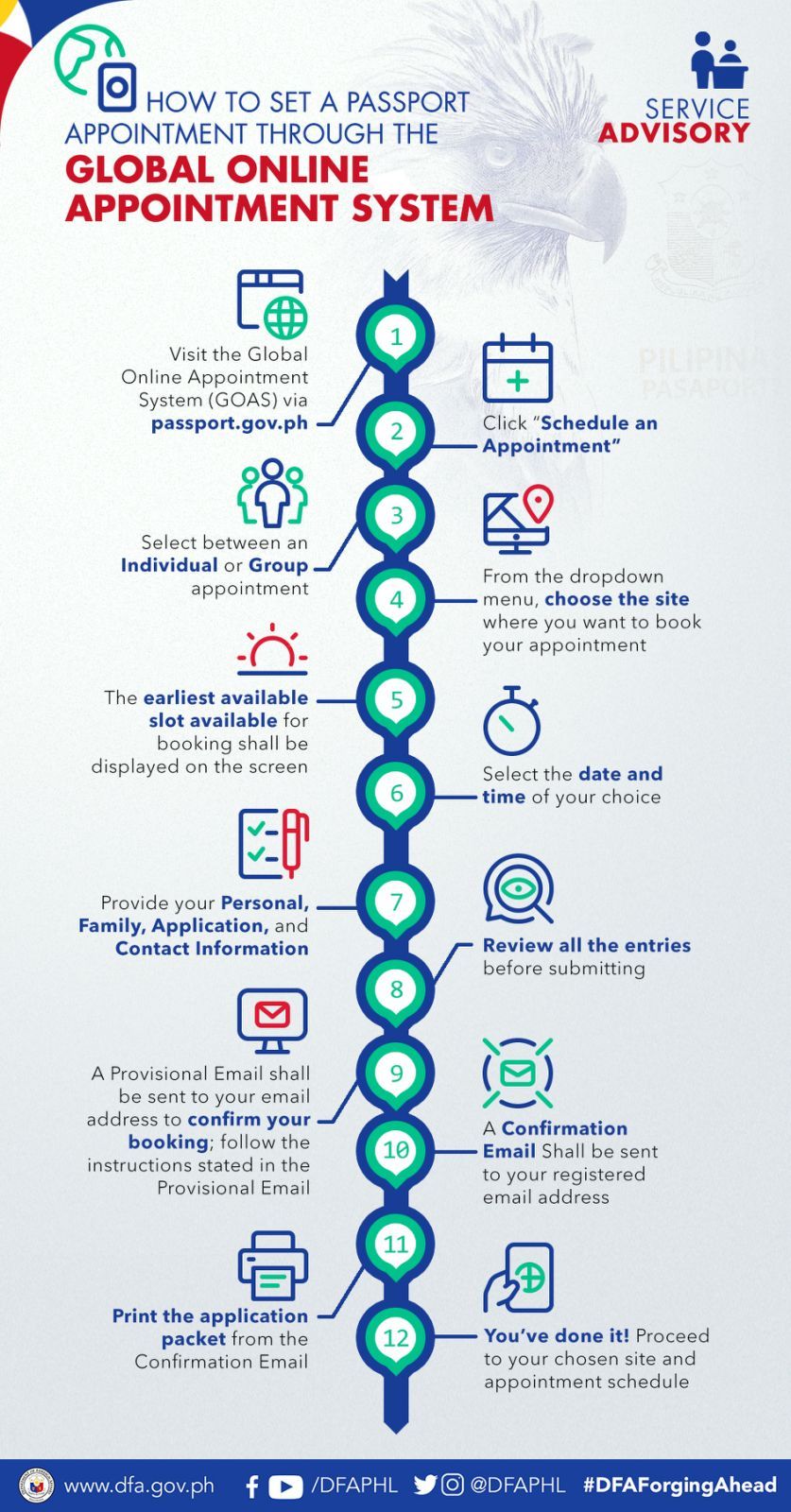 II. Affidavit / SPA / Authentication / Notarials
https://booking.philembassy.org.nz/
a. How to register
Please watch the step by step video instructions below on how to register. Click the square icon at the lower right of the video to watch it on full screen.

[ Click the square icon at the lower right of the video to watch it on full screen ]
Click the "REGISTER New User" button
Input in all the required information
Click the "REGISTER" button
"Are you sure you want to REGISTER", click "YES"
"Do you wish to login to the system", click "YES"
b. Cancellation Policy
We understand that unavoidable circumstances arise, appointments may be cancelled or rescheduled by logging into the Philippine Embassy Appointment System https://booking.philembassy.org.nz and go to "My Appointments" > "View Details" > "Cancel Appointment".
c. Multiple Booking
The system will delete your other bookings for appointments to enable our other kababayans to also renew their passport and avail themselves of the Embassy's consular services. Please refrain from multiple bookings in the future.
d. How do I know if my booking was received by the Embassy?
The booking is received by the Embassy upon login and when your schedule has been listed under the page "My Appointments".
Confirmation will be via email within 24 hours. However, if you receive no notification within this period, please inform the Embassy through consular.appointments@philembassy.org.nz.
e. How do I know if my application has been released?
For our kababayans who have submitted their civil registry documents, consularized affidavits or have renewed their passports and have included the self-addressed courier bags in their submissions, you may now check your status here:
Consular/Client Service Tracker
Please note that the system updates every Wednesday and Friday morning. No need to call the Embassy to confirm this.
e. Appropriate manner inside the premises and surrounding areas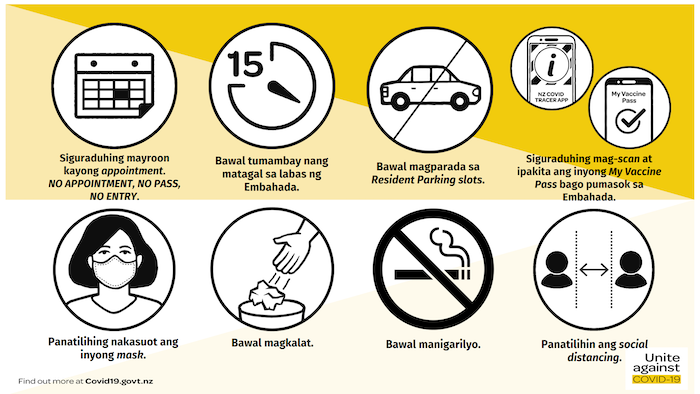 Nakatanggap ang Embahada ng mga reklamo mula sa mga kapitbahay lalo na ang tungkol sa paninigarilyo, pagtatapon ng basura kung saan-saan at ang pagpaparada sa Resident Parking ng mga kababayang nagtutungo sa Embahada.
Nakikiusap po ang Embahada na huwag po tayong manigarilyo sa paligid ng Embahada, huwag magkalat at huwag mag-istambay nang matagal lalo na po at nasa Red Traffic Light System ang New Zealand.
Salamat po sa inyong kooperasyon at pang-unawa.
#IngatKabayan