IATF Resolution No. 160-A and 160-B (II) for Foreigners and former Filipinos entering the Philippines JSD-2022-05
Foreign nationals and former Filipinos are required to accomplish the OneHealthPass (OHP). Arriving passengers may sign up in the One Register platform prior to their check-in or arrival at airports (https://onehealthpass.com.ph/faq.html). The electronic Health Declaration Card (eHDC) may only be accomplished the day before or on the day of the flight.
For reference, below is a screenshot of the OHP home page http://www.onehealthpass.com.ph/. At the topmost row, One Register is the 2nd icon; and eHDC is the 3rd.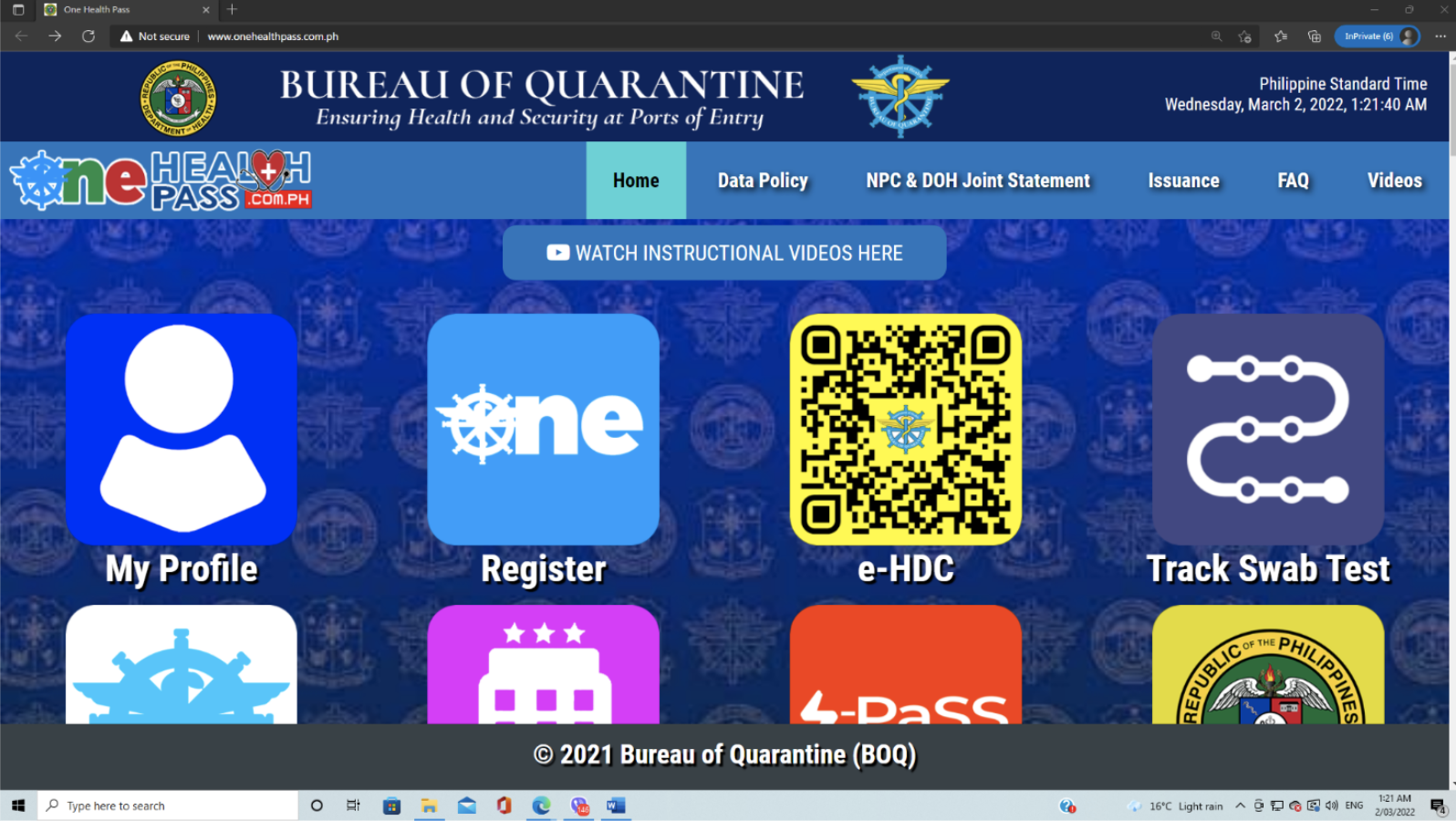 Generally, the applicable entry, testing, and quarantine protocols are determined by the passports that the foreign national uses upon admission into the Philippines, except in cases of former Filipinos who enjoy balikbayan privileges.
As confirmed with the Bureau of Immigration, identification certificates (IC) issued by Philippine embassies, consulates general and consulates are still recognized as proof of Filipino citizenship. Hence, dual citizens using foreign passports who are able to present their ICs would not be required travel health insurance as they are still Filipino citizens. They should follow IATF-EID Resolution No. 160-A dated 03 February 2022 that is applicable to Filipino Nationals. However, this is a must for non-visa required nationals under IATF-EID Resolution No. 160-B.
Moreover, with an IC or Certificate of Retention or Reacquisition of Filipino Citizenship, dual citizens using foreign passports may be allowed entry despite positive RT-PCR pre-departure test results. They will be admitted into the Philippines as Filipino nationals and would be able to avail themselves of protocols stipulated in Section D of IATF-EID Resolution No. 160-A.
Except for foreign diplomats and their dependents, foreign dignitaries and members of their delegation, 9(e) visa holders, personnel of Philippine Foreign Service Posts (FSPs) and their dependents, and Philippine government officials on official travel, fully-recovered foreign nationals/former Filipinos with positive RT-PCR pre-departure test results will not be allowed entry into the country pursuant to current IATF-EID guidelines.
Maraming salamat po.