Calling all Filipino youth overseas! 2nd Virtual YouLeaD Program 2022
Calling all Filipino youth overseas!
Join the 2022 VIRTUAL YOUTH LEADERS IN THE DIASPORA (YouLeaD) via Zoom on September 24, 2022, Saturday, from 1:00 pm to 4:00 pm (Manila Time).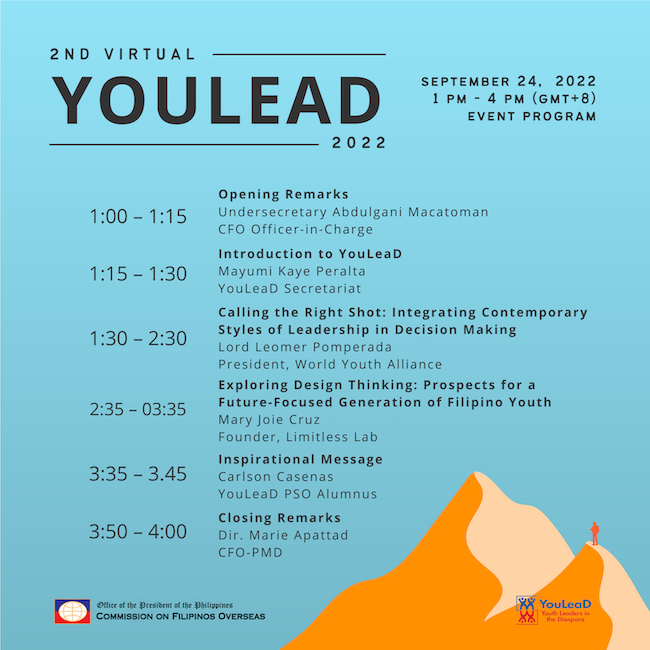 Registration is FREE and is now open with limited slots. Interested participants may fill out the online Zoom registration form: https://bit.ly/2ndVirtualYLD2022Registration
Deadline for registration is on September 17, 2022, Saturday. Please take note that the email address entered in the form by interested participants must already be associated with a Zoom account.
Qualifications for participants are the following:
Aged 15-30 years old;
Of Filipino descent living overseas;
Can commit to attending the full, 3-hours session;
Has no conflict with school or work schedules and no prior commitments on the said date;
Has a laptop or desktop; and
Fast internet connection
YouLeaD is a cultural immersion program in the Philippines designed for young Filipinos who were born abroad and/or immigrated to another country when they were young, who are no longer familiar with their Philippine roots, customs, and heritage.
The Commission on Filipinos Overseas aims to help participants discover issues and challenges experienced by their peers, especially during the COVID-19 pandemic. Additionally, it intends to provide a forum for exchanging solutions, inspiring creativity, and pushing for constructive social change in both local and global communities.