Filipino recipient of New Zealand order of merit honored at testimonial dinner hosted by PHL Ambassador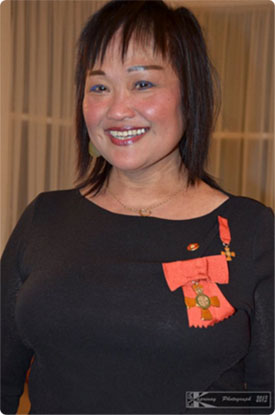 Ms. Silvia Shirin Zonoobi, who hails from Cavite City and the first ever Filipino migrant who was appointed Officer of the New Zealand Order of Merit (ONZM) in the New Year's Honours List in 2003 for Services to Refugees and Migrant Communities, was honoured during the testimonial dinner hosted by Philippine Ambassador Virginia H. Benavidez at "Ang Bahay" (Ambassador's residence) in Wellington on 10 August 2013. Together with her close friends who became part of her amazing journey since she arrived in New Zealand on 3 March 1990 from Iran where her family was staying at that time, Ms. Zonoobi recounted how she was granted refugee status as she was unable to return home due to the volatile situation in the Middle East during that period. She shared the voluntary work and services she rendered to help migrants and refugees from Asia, Middle East and other regions learn English, her involvement in community centered projects to reach out to them and her contributions to groups and public activities to gain support for the rights of Asian migrants and foster greater multiculturalism in New Zealand. She recalled with gratitude how she was considered to be a recipient of one of New Zealand's prestigious State Honours and the memorable moments when she proudly projected her Filipino heritage during the investiture ceremony led by then Governor-General Dame Silvia Cartwright at the Government House on 09 April 2003. For the past twenty-three years, Ms. Zonoobi continues to immerse herself in projects for the benefit of refugees and migrants, upgrade her skills by enrolling in courses on law, political science and international relations at Victoria University, actively participate in Filipino cultural festivities, community events and religious celebrations and support the Philippine Embassy's Filipino language and cultural enrichment classes for Filipino children and youth and other projects for the benefit of the Filipino community and enhancement of people-to-people interaction between the Philippines and New Zealand.
Ambassador Benavidez commended Ms. Zonoobi's sacrificial service and selfless devotion to the welfare and well-being of refugees and migrant communities all through the years and stated that "as the first Filipino migrant who was appointed an Officer of the New Zealand Order of Merit for distinguished service and meritorious contributions to those who need them the most when they settle in New Zealand, their adoptive country, you bring pride to your mother country and exhibit the endearing characteristics of our people. Your compassion and care speak volumes of the Filipino's renowned "bayanihan" (spirit of volunteerism and coming together for good) which were undoubtedly acknowledged and recognized by the people of New Zealand and those whose lives you have touched in meaningful ways. The presence of guests from various sectors who came for this significant occasion attest to their deep affection for you and appreciation for your sustained efforts and sacrifices to help make a distinctive difference in people's lives." Ambassador Benavidez further said that Ms. Zonoobi continues to be a vital partner of the Philippine Embassy in its language, cultural and educational programmes and in promoting closer friendship, understanding and goodwill among Filipinos, New Zealanders and people from other countries.
In her remarks, Ms. Zonoobi reiterated her gratitude to Ambassador Benavidez and the guests for the recognition given to her on this special occasion. "I am really overwhelmed and touched by the sincerity and support you continue to show then and now. What makes this evening even more significant is that after thirteen years, the spirit of sharing and caring for one another is still very much alive. It is indeed a great honour for me to be here again at "Ang Bahay" where I always feel welcomed and proud of my Filipino heritage and humbled by the recognition given by New Zealand and the Philippine Embassy and the testimonies of friends who walked with me in my GOD-given mission in Aotearoa. This inspires me to continue to do even more and be counted in carrying out projects for the good of the communities that make New Zealand multiculturally enriched and ethnically diverse and supporting the activities of the Philippine Embassy in promoting the welfare and interests of the global Filipinos in New Zealand and of the Filipino community in highlighting the richness and variety of Filipino talents, artistry and creativity."
The guests from the Wellington City Council, Settlement Unit of the Department of Labour, St. Anne's Parish, the law and medical professions, media, travel, photography and business sectors shared their experiences and recollections of their interaction with Ms. Zonoobi and spoke highly of her sacrifices and generosity with her time, talents and resources in all her endeavours. They conveyed their deep appreciation to Ambassador Benavidez for the wonderful get together in honour of Ms. Zonoobi and the warm hospitality and excellent Filipino cuisine they all thoroughly enjoyed amidst the distinctively Filipino ambience and setting of "Ang Bahay". As they all stated, "it was truly an unforgettable evening to remember and recognize Filipino talents, advocacies and contributions in New Zealand."