LINAMNAM: A Philippine Culinary Heritage and Gastronomy Symposium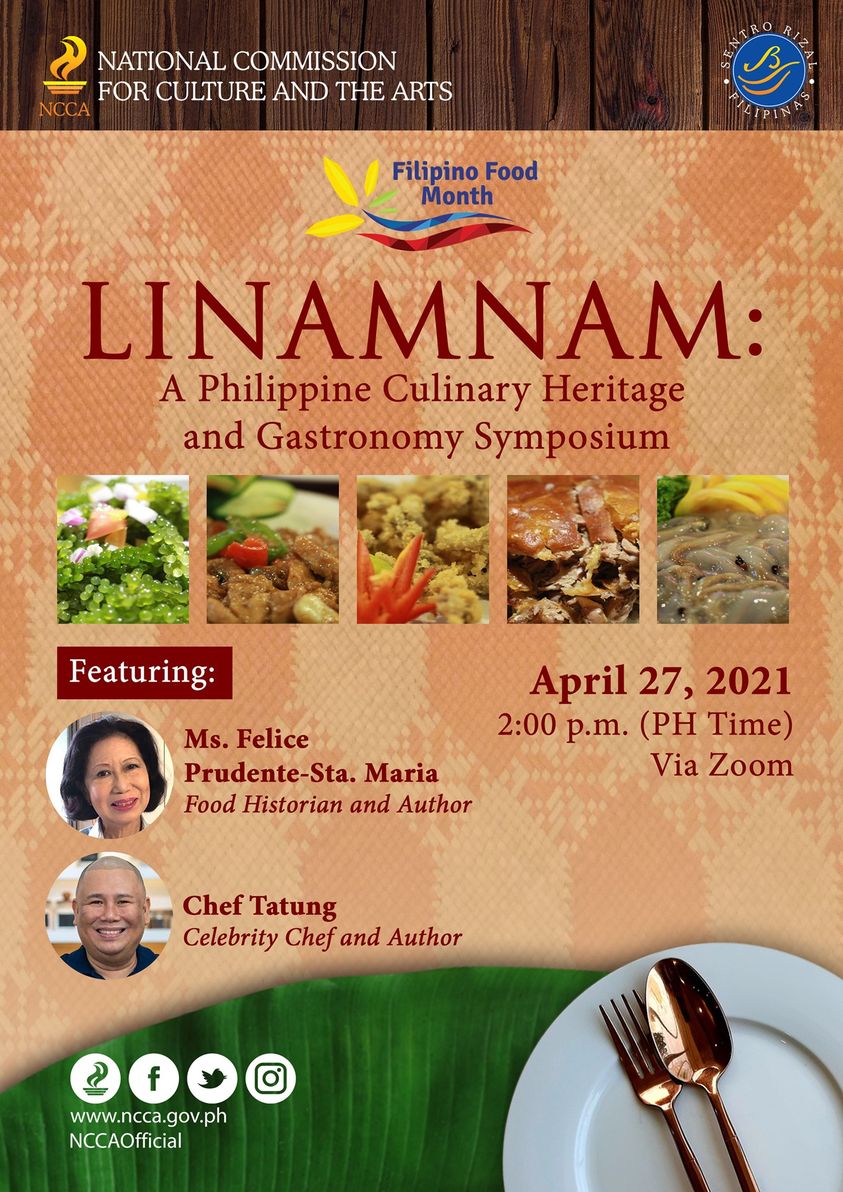 A TASTE OF FILIPINO CULTURE. Sentro Rizal (SR), the Philippines' cultural arm for the overseas promotion of Philippine culture under the oversight of the National Commission for Culture and the Arts, will be celebrating the 2021 Buwan ng Kalutong Pilipino or Filipino Food Month this April, in cooperation with the Philippine Culinary Heritage Movement and the Philippine Foreign Service Posts with Sentro Rizal. Dubbed as Linamnam: A Philippine Culinary Heritage and Gastronomy Symposium, this Sentro Rizal event will feature an online presentation of contemporary innovations on Philippine cuisine by esteemed Filipino food historian and author, Ms. Felice Prudente Sta. Maria. A cooking demo of selected Filipino cuisine by celebrity chef and author, Chef Michael Giovan Sarthou, will highlight the presentation.
This initiative is in line with the goal of Filipino Food Month to appreciate, preserve and promote Filipino culinary traditions and treasures to ensure their transmission to future generations. It likewise aims to support the various industries, farmers, and agri-communities which benefit therefrom. Filipinos overseas, especially the children of migrants are heartily invited to participate in this treat that will not only tickle the taste buds, but also bring memories of home and arouse curiosity of how the rich Filipino culinary traditions have evolved through time.
To date, there are 34 Sentro Rizal sites worldwide that are located in the chanceries under the purview of the Philippine Foreign Service Posts. This SR e-tivity will be held on 27 April 2021 at 2:00pm (Philippine Standard Time) via zoom and will be livestreamed on NCCA Facebook page.
To register, please click link below:
https://us02web.zoom.us/.../reg.../WN_Fq1dVOPmQGa8Rwq2Bv5XoQ