Philippine Ambassador welcomes New Zealand Trade Commissioner for the Philippines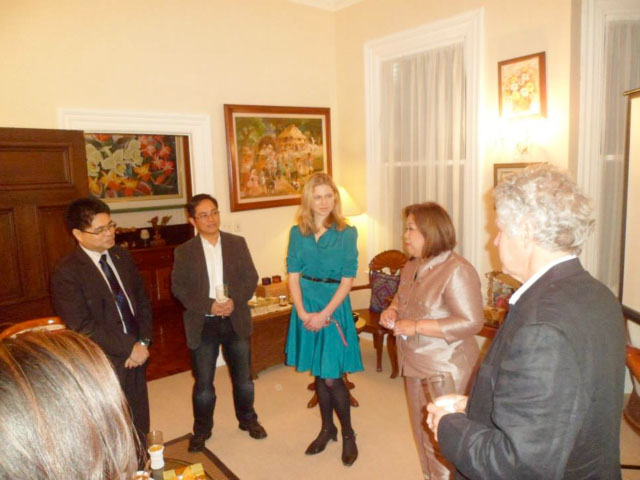 In line with the Philippine Embassy's economic diplomacy objectives by forging solid partnerships with the New Zealand government and its business community sectors, Ambassador Virginia H. Benavidez warmly welcomed New Zealand Trade Commissioner Hernando Banal at "Ang Bahay" (the Philippine Ambassador's residence) in Wellington on 19 August 2013. Mr. Banal was accompanied by Ms. Emily Swan, International Market Manager for East Asia of the New Zealand Trade and Enterprise (NZTE). The occasion was also attended by the Chairman of the GFG Group Limited, Mr. Ralph Green, and the Directors of the New Zealand Philippines Business Council (NZPBC)-Wellington, Mr. Roy Cabauatan, Ms. Agnes Espineda, Mr. Reynald Cabauatan, Ms. Caroline Parreno, Ms. Irene Noval and Mr. Gilbert Azuela.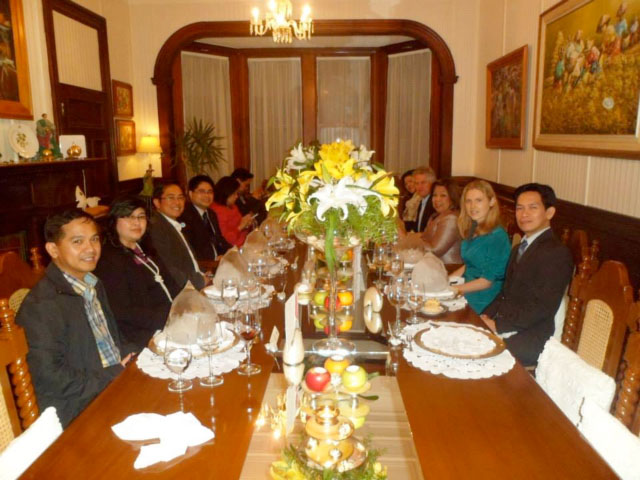 The event was an opportune time in keeping abreast of the current trade and investment environment and relationship between the Philippines and New Zealand as Mr. Banal provided the guests with a comprehensive presentation full of information on NZTE as New Zealand's international business development agency, a profile of New Zealand exporters, the NZ Inc. Business Growth Agenda, and quick facts about the Philippines that include its political history, its strategic business location, its rich talent pool, statistics on its business process management, its stable and resilient economic growth, credit rating upgrades, its continuous inflow of overseas Filipino workers remittances, NZTE projects in the Philippines, and the ASEAN-Australia-New Zealand Free Trade Agreement (AANZFTA).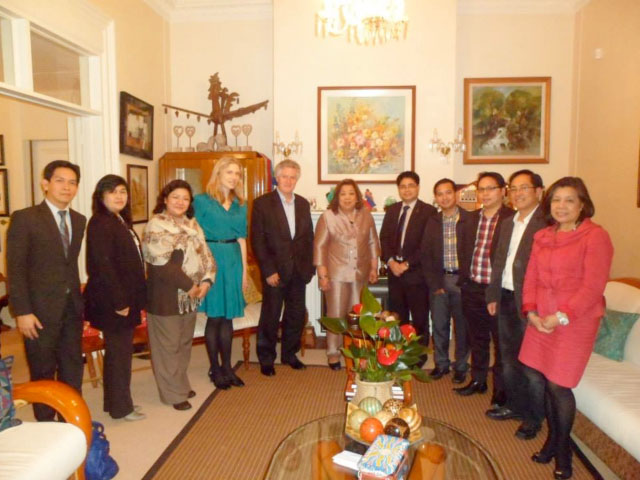 Together with the Directors of the NZPBC-Wellington, Ambassador Benavidez expressed appreciation to Mr. Banal as a vital partner in infusing renewed vigor and vitality in the economic relationship of the Philippines and New Zealand, and reiterated once again the mutual benefits from the synergy and expanded cooperation between the two countries in trade and investment.
"The presence of and interaction with Mr. Green, Trade Commissioner Banal and Ms. Swan from NZTE and the Directors of the NZPBC Wellington Chapter concretely manifest the growing business relationship and economic partnership between the Philippines and New Zealand. The Philippine Embassy will continue to intensify its networking and collaboration with various individuals, groups and stakeholders in New Zealand to forge closer economic and people-to-people ties," Ambassador Benavidez stated.
With New Zealand Prime Minister John Key outlining the importance of the Association of Southeast Asian Nations (ASEAN) to New Zealand in the NZ Inc. ASEAN Strategy, a new strategy to forge stronger links with the region, NZTE shares in the pursuit of key strategic goals that include boosting investment and trade, and economic returns from the region.
The guests enjoyed the rest of the evening with pleasant and informative conversations at the homey Filipiniana ambience of "Ang Bahay" over a hearty and gratifying Filipino dinner.