PHL Ambassador and Assistant Vice President for Academic Affairs of the University of the Philippines enhance educational ties with Massey University in Wellington
In line with its efforts to strengthen economic diplomacy work by promoting closer people-to-people ties and educational linkages between the Philippines and New Zealand, Ambassador Virginia H. Benavidez and Dr. Rhodora V. Azanza, Assistant Vice President for Academic Affairs and Director for Institutional Linkages and Professor at the Marine Science Institute of the University of the Philippines (UP), met with Massey University officials, Professor Annette Huntington, Head, School of Nursing, Mr. Harry Verhagen, Associate Director, Professional Education, Ms. Anne-Marie Ngan, Programme Coordinator, Professional Development, Mr. Jon Mitchell, Research and Business Manager, Joint Centre for Disaster Research, and Dr. Jane Rovins, Director, Disaster Reduction and Resilience Solutions, Ltd., on 29 October 2014.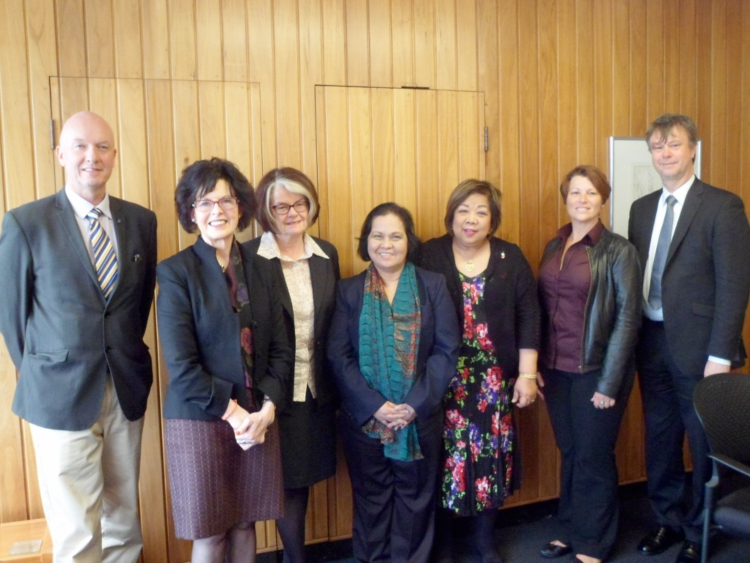 Discussions focused on areas of interest to both Massey and UP, such as providing research and consultancy services on emergency preparedness, disaster risk management, climate change and resilience, possible linkages in the healthcare/nursing sector, and sustaining faculty development by implementing professional development short courses. The university officials consider it very significant for UP and Massey to come up with arrangements for institutional partnership and collaborative work on mutual interests in these specialized fields of study. They discussed the possible pathways for cooperation at the university and graduate levels and the subsequent steps to be undertaken to initiate and formalize academic links between UP and Massey. Ambassador Benavidez stated that this is a highly opportune and timely initiative for both equally renowned universities as education is a priority area of cooperation between the Philippines and New Zealand.
Ambassador Benavidez thanked Dr. Azanza who headed the Philippine delegation to the 16th International Conference on Harmful Algae in Wellington on 27 to 31 October 2014 for her commitment and cooperation to explore and establish UP and Massey academic ties, and Professor Huntington, Mr. Verhagen, Ms. Ngan, Mr. Mitchell and Dr. Rovins for a productive meeting acknowledging the importance of doing more with the Philippines in the academic sector. "The Philippines and New Zealand continue to see great possibilities and prospects and are committed to expand our partnership in this crucial area," Ambassador Benavidez said.