PHL Ambassador celebrates race relations day with officials and Filipinos in Kapiti Coast, New Zealand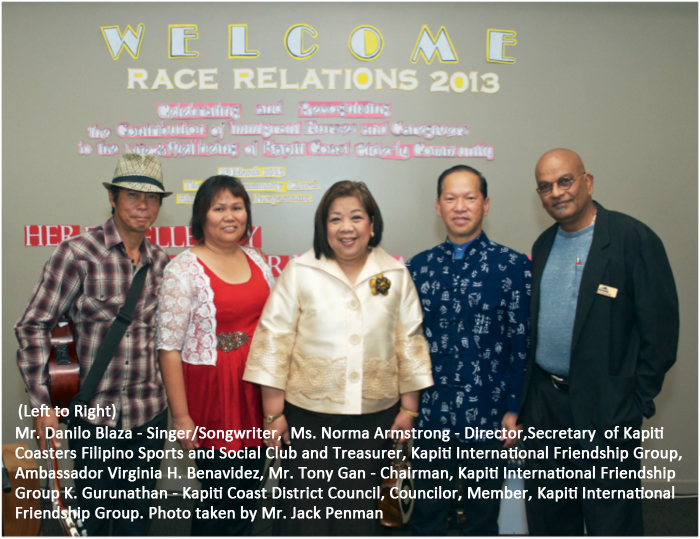 As New Zealand celebrated Race Relations Day nationwide, Philippine Ambassador Virginia H. Benavidez joined local officials and the Filipino community in Kapiti Coast, Paraparaumu to honour immigrant workers' contributions to the lives and well-being of the elderly community at the Coast Community Church on 23 March 2013. Race Relations Day is a significant event since New Zealand observed it 44 years ago in 1969 marking the International Day for the Elimination of Racial Discrimination around the world. The Kapiti Coasters Filipino Sports and Social Club led by Mr. Abel Foronda and Ms. Norma Armstrong and their officers and members hosted the recognition programme and invited Ambassador Benavidez, Her Worship Jenny Rowan, Mayor, Kapiti Coast District, Mr. K. Gurunathan, Councillor, Kapiti Coast District Council, Mr. Tony Gan, Chairman, Kapiti International Friendship Group, Mr. Dermont Whelan, General Manager, Age Concern, Mr. Trevor Daniel, President, Grey Power, Ms. Jill Standsfield, Chairwoman, Older Persons Council, Ms. Teresa Jones, Manager, Eldon Lodge Rest Homes, Ms. Heather Rye and Ms. Barbara Mador, Owner and Manager, respectively, Kena Kena Rest Homes, Ms. Lauren, Manager, Winara Rest Homes, Ms. Cherry Toca and Filipino nurses, caregivers, officials and friends from New Zealand and representatives from other ethnic communities. Kapiti Coast is where a significant number of senior citizens can avail of quality and high standard services and facilities provided by aged care, rest and convalescent homes and retirement villages and where large numbers of health professionals and workers from the Philippines, Pacific Islands, India and other countries are appreciated for their reassuring presence and sacrificial service day by day.
Mayor Rowan welcomed the guests to her district and conveyed her appreciation to the Filipino community for organizing this year's event to commemorate Race Relations Day in Kapiti Coast. She acknowledged the crucial roles of the migrant nurses, caregivers and health workers whose dedication and commitment to care for the elderly are exemplary. It is important that their rights and welfare are looked after and that their contributions to the over-all health care system and to Kapiti Coast are recognized.
Ambassador Benavidez stated that the theme for Race Relations Day 2013 "My Dream for Aotearoa, New Zealand" is a most fitting one for a culturally rich, unique and diverse nation emphasizing the value of fostering harmonious race relations and integration of migrant communities and moving towards a sense of belonging in a multi-ethnic and multi-faith society. The theme for the celebrations in Kapiti Coast giving honour and recognition to the vital contributions of migrant nurses, caregivers and health care workers from the Philippines, Kiribati, India and other countries to the health and well-being of the elderly community speak volumes on the crucial roles they play in taking care of an increasing segment of New Zealand's population and making a profound impact and positive difference on their lives. "You form a valuable part of the backbone of the country's health care system as you touch lives and move the hearts of the elderly from New Zealand and other countries through the devotion, attention, support and compassion you show to them day-by-day. Your presence and tireless efforts to ensure the well - being of the elderly represent the caring embrace of your respective countries' good people felt and appreciated by the people of New Zealand. You are part of a massive and treasured resource who are now living the dream in Aotearoa to make New Zealand the best it can be for the benefit of the current and future generations of people," Ambassador Benavidez stated.
Ms. Cherry Toca, a Filipino caregiver from Kena-Kena Rest Home has been in Kapiti Coast for almost five years, thanked the organizers and guests who made the celebrations successful and spoke about the way they are treated as part of a family in her work place and her love for her job providing care and attention and responding to the social and personal requirements of the senior and elderly residents who need assistance with their daily activities and health care. For Ms. Toca, "it is hard but a fulfilling career. It's like giving a part of ourselves to the elderly people and that feeling is definitely rewarding. We can be a friend, a counselor, a shoulder to lean on even to cry on. Sometimes a storyteller or a good listener even if we already heard their stories, we patiently listen and give full attention to them."
In his closing remarks, Councillor K. Gurunathan paid tribute to the immigrant nurses, caregivers and health workers for their sacrificial service to all those who desire to age with dignity and this means so much to them and their families. He said that the natural caring attitude, cheerful disposition and compassionate service emanate from the culture, tradition and way of life in countries these migrant workers come from giving importance to personal and family care and love for their elderly and aged parents and relatives.
Filipino talent and creativity were showcased from the welcome remarks of Mr. Abel Foronda, the prayer and presentation of tokens of appreciation by Ms. Norma Armstrong to the songs rendered by Mr. Danilo Blaza and Ms. Mercy Abanes and the Tinikling Dance performed by Munting Bayanihan as well as the sumptuous Filipino food served during the fellowship luncheon that followed the commemorative programme.