PHL Ambassador speak on "Philippines-New Zealand" relations in the 21st century: Opportunities and pathways" at International Pacific College, Palmerston North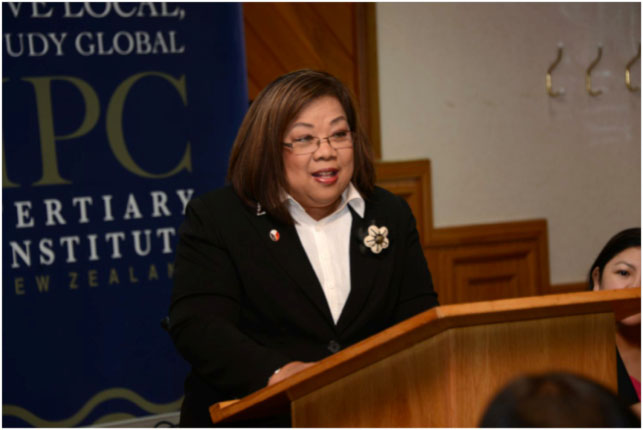 Upon the invitation of the International Pacific College (IPC) in Palmerston North, New Zealand, Philippine Ambassador Virginia H. Benavidez presented an overview of the "Philippines-New Zealand Relations: Opportunities and Pathways" on 21 August 2013 as part of a series of interdisciplinary seminars on foreign policy and international relations co-hosted by IPC, the New Zealand Institute of International Affairs (NZIIA) and Centre for Defense and Security Studies at Massey University.
Ambassador Benavidez expressed appreciation to Mr. Hiroshi Ohashi, Chairman of the Board of Trustees, IPC Tertiary Institute, Palmerston North, New Zealand and International Pacific University, Okayama, Japan, Mrs. Setsuko Ohashi, Chief Operating Officer, Soshi Educational Group, Professor Wayne Edwards, President of IPC, Mr. Ichizo Murakami, Director of Corporate Services, Dr. James To, Co-Chair for the Palmerston North Branch of the NZIIA and BIS Programme Development Coordinator, IPC, Dean Sue Jenkins, Faculty of International Studies (Diploma Programme), IPC, Acting Dean Dr. Gillian Claridge, Faculty of International Studies (Degree Programme), IPC Dr. Jody Arsenio, Lecturer, Faculty of International Studies, IPC, members of the faculty, staff and students for the warm welcome and gracious hospitality extended to her, First Secretary Arlene Gonzales-Macaisa and Third Secretary Glenn Joseph Obach.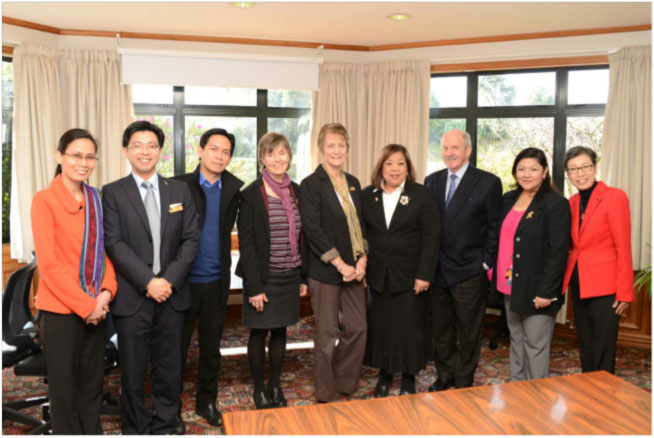 In her presentation, Ambassador Benavidez started with the overarching framework of the Philippines' engagement with the community of nations anchored on a principled Philippine foreign policy based on the values held dear by the Filipino people. These are freedom, democracy, human rights, good governance, peaceful settlement of disputes and the rule of law. The Department of Foreign Affairs and its 84 foreign service posts around the world will continue to work along the three pillars of Philippine foreign policy: first, preservation and enhancement of national security through the protection of Philippine sovereignty and territorial integrity; second, promotion and attainment of economic security through enhancing trade, investments, public-private sector partnerships and tourism with international partners; and third, protection of the rights and promotion of the welfare and interest of Filipinos overseas. The Philippines and New Zealand enjoy 47 years of bilateral ties since the establishment of diplomatic relations on 6 July 1966, a longer history of cooperation extending even farther when Filipinos and New Zealanders fought together in World War II for democracy and close bonds arising from both countries' shared adherence to democratic values and principles, good governance, rules-based approach, peaceful settlement of disputes in accordance with international law, peace-building and respect for human rights.
Ambassador Benavidez provided a comprehensive scan of the key aspects of Philippines-New Zealand relations at the political, defence and security, economic and people-to-people interaction at the bilateral level as well as the increasing collaboration at the regional and international arenas. The partnership is at its all-time high following the successful and productive State Visit of President Benigno S. Aquino III to New Zealand on 22-23 October 2012 and the warm welcome and gracious hospitality of and fruitful meetings with His Excellency Lieutenant-General The Right Honourable Sir Jerry Mateparae, Governor-General and the Honourable John Key, Prime Minister greatly advancing the momentum of Philippines-New Zealand relations at the personal and official levels. Ambassador Benavidez highlighted the importance of President Aquino's continuous peace building efforts with the historic signing of the Framework Agreement in Mindanao with the Moro Islamic Liberation Front (MILF) and the Philippines' relentless pursuit of peaceful settlement of disputes in accordance with international law, rules based approaches and level playing field in finding durable, just and lasting solutions to regional conflicts especially those involving the Philippines' maritime rights and entitlements within its legitimate maritime zones. She stressed that regional disputes such as the West Philippine Sea/South China Sea, a core national interest of the Philippines, should be addressed through a rules based approach and compliance with international laws such as the United Nations Convention on the Law of the Sea (UNCLOS) and that mutual respect, peaceful dialogue and cooperation should govern relations between nations. "The Philippines counts upon New Zealand's respectable voice, valuable partnership and constructive engagement in the regional and global community for understanding and support for the Philippine position and efforts to seek a peaceful and durable resolution of disputes in the West Philippine Sea," Ambassador Benavidez stated. The State Visit laid the foundations for stronger Philippines-New Zealand collaboration with the signing in Wellington of bilateral arrangements on defence and security, geothermal energy, the Working Holiday Scheme and announcement on the dairy cooperation project as well as the extensive networking among Filipino and New Zealand private sector during the business forum and the signing of private sector led agreements on energy and agribusiness and between the Philippines and New Zealand Business Councils in Auckland.
Opportunities for greater collaboration in the area of defence and security, active exchange of ministerial-led visits, senior officials, parliamentarians, businessmen and other stakeholders, the growing trade and investment relationship bilaterally and in the context of the ASEAN-Australia New Zealand Free Trade Agreement (AANZFTA) in the priority areas of cooperation in the dairy industry, geothermal energy, ICT, manufacturing and services, development assistance, active participation and engagement in regional and multilateral fora, mainly, ASEAN, APEC, ASEM, East Asia Summit, United Nations, WTO, Pacific Islands Forum, South West Pacific Dialogue and Asian Development Bank, among others, were highlighted. Ambassador Benavidez pointed out that "the Philippines appreciates New Zealand's strong commitment to ASEAN and contributions to ASEAN's thrusts to achieve regional economic integration by 2015 and strengthening the political-security, economic and the socio-cultural pillars of the ASEAN Community." She also touched on the launching of the New Zealand Inc. ASEAN Strategy in Auckland on 12 July 2013 by Prime Minister John Key which highlights New Zealand's rebalancing towards Southeast Asia and is envisioned to boost investment, trade and economic returns from the region and a Commemorative Summit marking the 40th anniversary of ASEAN-New Zealand relations in 2015 as an excellent opportunity to raise public awareness and appreciation of the active ASEAN-New Zealand relationship.
The broad spectrum of Philippines-New Zealand relations are underpinned by enduring people-to-people ties and Ambassador Benavidez stated that "more than 36,000 Filipinos in New Zealand in every profession, employment level and entrepreneurial sector are considered the 3rd largest group of skilled migrants who have built their lives in New Zealand. They continue to animate churches, share the values of family similar to those held dear by New Zealanders, enliven multicultural festivities and enrich rural communities throughout the North and South Islands. Complementing these thriving people-to-people ties is the expanding tourism and education links coupled with the potential of fostering greater understanding and goodwill between young Filipinos and New Zealanders under the Working Holiday Scheme."
Ambassador Benavidez concluded her presentation with the key pathways to take forward the dynamic and mutually beneficial relationship between the Philippines and New Zealand and to scale further the heights of cooperation in the priority areas among government officials, businessmen, students, youth and the general public. The building blocks are there amidst a rapidly evolving ASEAN Community in 2015, the New Zealand Inc. ASEAN Strategy, AANZFTA, the momentum gained in the ASEAN-New Zealand Dialogue partnership, active participation in the ASEAN Regional Forum and East Asia Summit, working together with ASEAN to help overcome real and potential challenges to regional security through peaceful means and confidence building measures, the progress of the Regional Comprehensive Economic Partnership (RCEP) agreement and the signing of the Working Holiday Scheme Arrangement which underlines the potential for expanding tourism and education links, understanding, friendship and goodwill between Filipinos and New Zealanders.
The subsequent Q&A session and interaction with the students and faculty generated interest in areas to further enhance cooperation and the "soft power" that global Filipinos in New Zealand and other countries wield to promote Philippine interests and project a favourable image of the Philippines and the Filipino people.
Ambassador Benavidez and the Philippine Embassy officials met with some of the Filipino students taking up post graduate diploma and master's degree programme on International Studies at IPC. There are 30 Filipinos currently enrolled in IPC. After the welcome luncheon with the IPC Chairman, Deans and Officials, a tour of the sprawling and scenic 12-hectare IPC campus and facilities were given by Dr. James To. IPC is one of New Zealand's first private tertiary institute set up in 1990 offering diploma and post graduate courses on international business, international relations, environmental studies, ecotourism, language studies, Japanese studies, sport studies, ESOL (English for Speakers of Other Languages), TESOL (Teaching English for Speakers of Other Languages) and a specialized rugby programme with students and faculty members from over 30 countries. An invitation was extended to Ambassador Benavidez and the Philippine Embassy officials to visit IPC again during the Spring Festival when the cherry blossoms trees will be in full bloom and multicultural festivities are celebrated.