PHL Embassy's mobile consular services draw Filipinos to the "Pistang Pilipino 2013" in Rotorua, New Zealand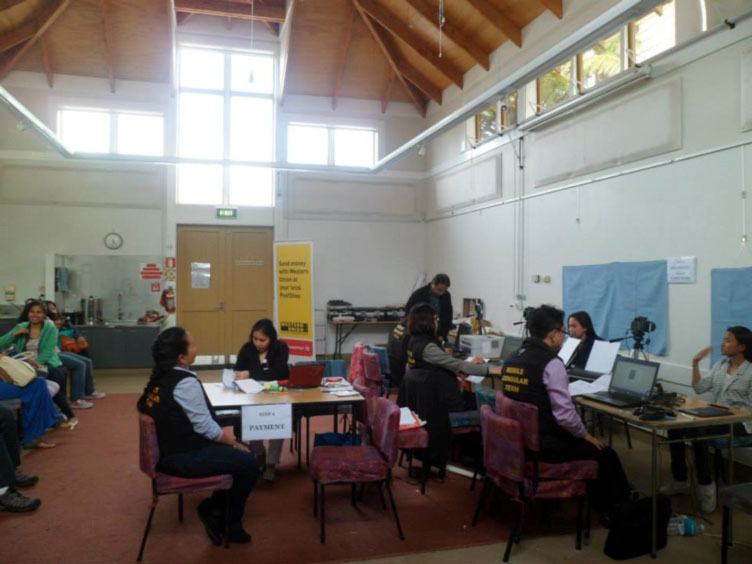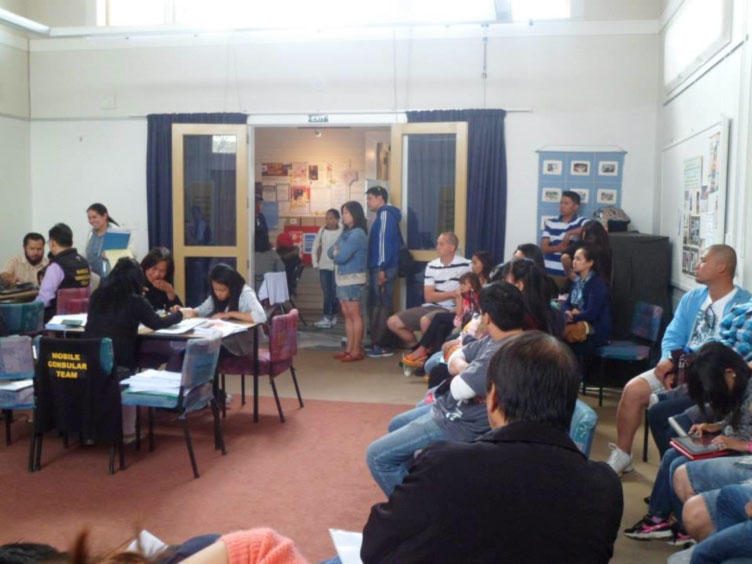 As the Philippine Embassy continues its mobile consular services for the second year for Filipinos in New Zealand and as its contribution to the "Pistang Pilipino 2013," the annual Labour Weekend Festival of Filipinos, Ambassador Virginia H. Benavidez led the Philippine Embassy Mobile Consular Team composed of Vice-Consul Glenn Joseph Obach, Ms. Ma. Victoria Reyes, Atty. Levy Strang, Ms. Mary Bel Garcia and Mr. Julius Verano in conducting the mobile consular services for the benefit of Filipinos in Rotorua and the surrounding areas of Auckland, Hamilton, Tauranga, Taupo, Taranaki, Palmerston North and other places in the North Island of New Zealand on 24-28 October 2013. Called "The Philippine Embassy in New Zealand: Serving with a Smile, Going the Extra Mile and Reaching Beyond Our Grasp" mobile consular services, a total of six hundred nine (609) Filipinos availed of consular services covering e-passport application and renewal, authentication, notarials, dual citizenship and NBI/police clearance certification. To date, the Philippine Embassy has conducted nineteen (19) mobile consular services for the benefit and convenience of 7,812 Filipinos throughout the North and South Islands in New Zealand.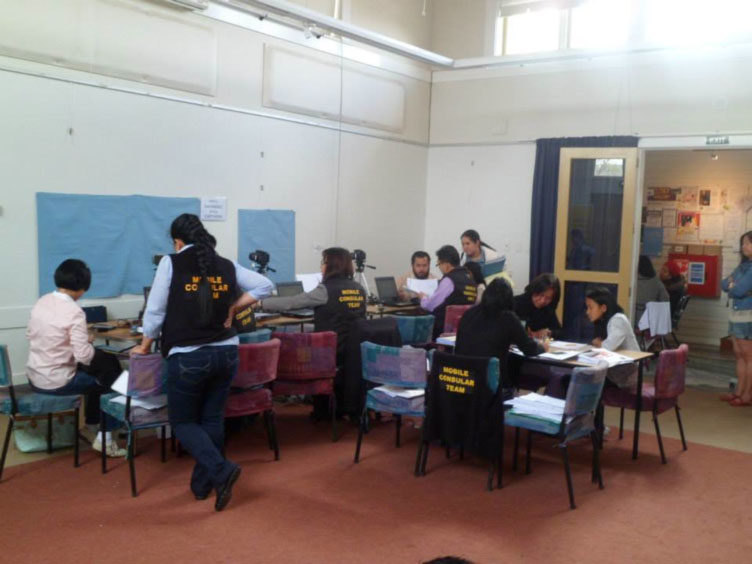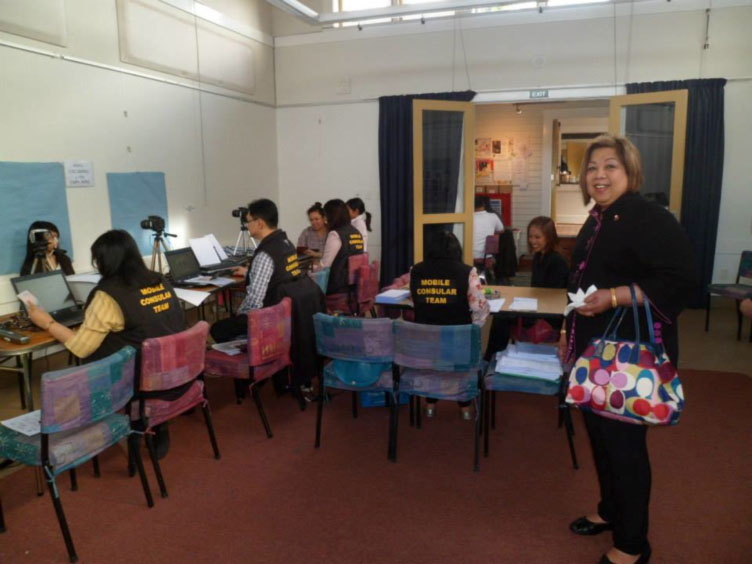 The Filipino community members in Rotorua and other parts of the North Island reiterated their deep gratitude to the Philippine Government through the Philippine Embassy for rendering the much needed and sought after consular services right where they are residing and working. The first applicant is 7-year old Francine Mitch Fresado from Putaruru, South Waikato. The Filipinos from the different cities and towns gave very positive and highly appreciative feedback for this continuing excellent and timely service which saves them a lot of money, time, days off and resources as it would have been extremely costly, inconvenient and difficult if they had to go all the way to Wellington. "Super satisfied, fast service and very professional people, friendly environment, well-organized system, happy to serve attitude of the team, easy, accessible and fast service, accommodating and approachable staff and best government service I have ever been in," were among the written feedback given by the Filipinos. The Philippine Embassy has always shared with the Filipino community the Philippine Government's priority and concern for their welfare and well-being as the third major pillar of Philippine foreign policy. "In recognition of the vital roles and contributions of the global Filipinos to nation-building in the Philippines and New Zealand, the Philippine Embassy will continue to reach out to them through our mobile consular services and dialogue, demonstrate its caring and sharing spirit and bring the Embassy's services closer to more than 36,000 Filipinos here," Ambassador Benavidez stated.
In bringing its services on site and directly to the Filipino community, the Philippine Embassy conveyed its deep appreciation to the Philippine Club of Rotorua, Inc. headed by its President, Ms. Marjorie Luxford, Vice-President, Ms. Lourdes Spijkerbosch, Secretary, Susana So, Asst. Secretary, Patricia Pike, Treasurer, Rachel Port and Asst. Treasurer, Romelyn Garde, Organising Committee of the Pistang Pilipino 2013 sa Rotorua with Mr. Greg Manzano as Project Manager, volunteers from the BOP- Philippine Friendship Society Inc., namely, Cherry Andrews, Gloria Avena, Vincent and Risalie Villasan, Roseanne and Edwin Baluyot, Lourdes Cabriole, Pablito "Jun" Pumaris, Leah Almario Yao, Zaydee Lopez, Susanna Flores, Kenji Villasan and Joel Aguilos and from PCRI, Erlinda Mather and Danielle and Zoe Mather.
"They have contributed immensely to a highly successful, productive and meaningful stay and service of the Embassy's mobile consular team in Rotorua. They continue to be our vital partners in carrying out our GOD-given mission for our beloved country and people," Ambassador Benavidez stated.