Vigan City vies for the New 7 Wonders-Cities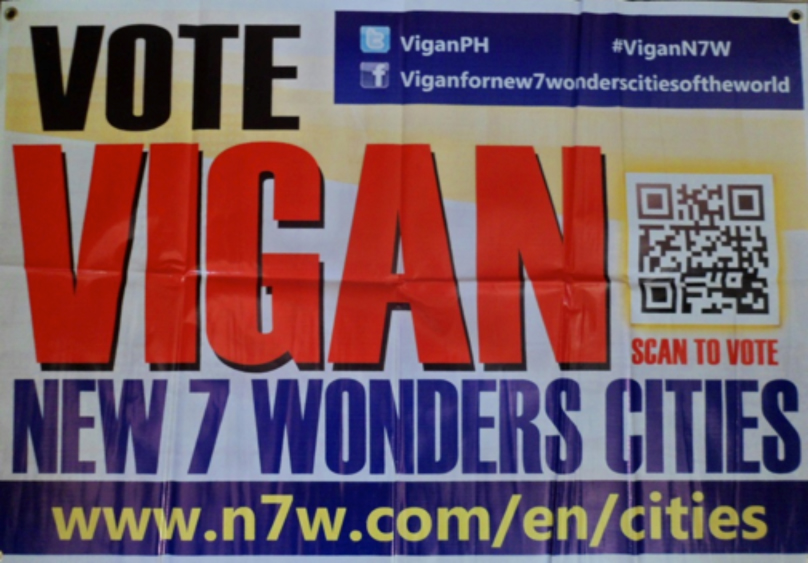 The Philippine Embassy in Wellington is pleased to inform you that out of 1,200 cities all over the world, Vigan have emerged as one of the finalist in the search for New 7 Wonders – Cities. Vigan City is the lone nominee from the Philippines after the initial selection process narrowed down the nominees to 21 cities.
Vigan is known for its well-preserved Spanish colonial architecture and cobblestone streets. It has been inscribed in the World Heritage List by the United Nations Education, Scientific and Cultural Organization (UNESCO) since 1999.
The New7Wonders is the same foundation that awarded Palawan's Underground River in Puerto Princesa City in 2011 as one of the world's New 7 Wonders of Nature. The New Wonders – Cities of the World Campaign is the third global vote organized by New7Wonders. The campaign started in 2012 with more than 1,200 nominees from around 20 countries. The top 77 who were voted during the qualification phase were narrowed down by the New 7 Wonders Cities Panel of Experts to 28 Official Finalist Candidates. The 28 cities have been further reduced to 21 on 07 July 2014. The New 7 Wonders Cities will be revealed on 07 December 2014.
The Philippine Embassy encourages the members of the Filipino-New Zealand community to vote for Vigan City in support of Vigan's bid to be part of the prestigious roster of New 7 Wonders – Cities, and to encourages their friends to vote as well.
To vote, log on to www.new7wonders.com/en/cities and click on the city of your choice. Voting can also be made through phone (details on http://www.new7wonders.com/phonevoting) and SMS voting by typing VIGAN and sending to 29290777 (P2.50/SMS).