Filipino wins 2nd Place as Best Farm Manager of the year from Gore, New Zealand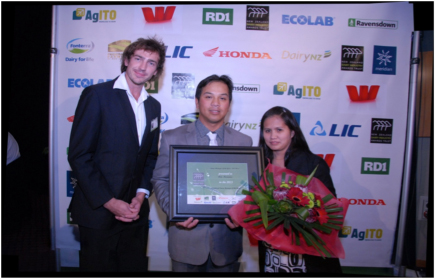 Another Filipino, Mr. Don Mananes, a Farm Manager at Waiparu Farm, Ltd., in Gore won 2nd Place/Runner Up as Farm Manager of the Year in the 2013 Southland Dairy Industry Awards held at the Invercargill Workingmen's Club in Invercargill on 5 April 2013.
The New Zealand Dairy Industry Awards attracts farmers from across the country, working in all levels of the dairy industry. It is supported by national sponsors Westpac, DairyNZ, Ecolab, Federated Farmers, Fonterra, Honda Motorcycles NZ, LIC, Meridian Energy, Ravensdown and RD1, along with industry partner AgITO. Regional and national awards are given to those who are judged to have excelled and attained exemplary performance and vital contributions as Sharemilker/Equity Farmer, Farm Manager and Dairy Trainee of the year.
Mr. Mananes also received two out of the six Farm Manager Merit Awards – the Fonterra Best Practice Award as well as the RD1 Farm Management Award for the Southland. A total cash prize of NZ$5700 was also part of his winnings.
Don has worked at the Waiparu Farm Ltd. for the past three years and states that his employers are very supportive with a positive outlook on maximizing operations for high production, ensuring good staff support, teamwork and upgrading farm efficiency by applying the latest technology to dairy farming. Waiparu is a family owned dairy farm with 550 cows. As a Farm Manager, Mr. Mananes is proud to have contributed his skills and sacrificial work attitude to the farm.
In congratulating Mr. Mananes, Philippine Ambassador Virginia H. Benavidez stated that together with other Filipinos in the dairy farming sector, Don demonstrates the excellent skills, sacrificial attitude and exemplary performance which show that the Philippines is home to world class global manpower resources. She further stated that "New Zealand farm owners, managers and officers of farmers' organizations acknowledge and appreciate the vital roles and crucial contributions of Filipinos in farm management, operations and upgrading of farm efficiency and production. You bring pride and honor to our beloved country and people, your family, employer and fellow Filipinos in the dairy farms."
Don Mananes, a Doctor of Veterinary Medicine from Bulacan Province, formerly managed his own veterinary supply business and clinic prior to migrating to New Zealand in 2006. Don and his wife, Khristine, and daughters Denisse Penelope Marie (9) and Diane Alexandra (4) have settled well in New Zealand and he continues to work hard, upgrade his skills in dairy farming, and secure a bright future for his family. Close to his heart is his desire to share whatever he learned to help the Philippines' dairy industry.