Film showing of a Filipino blockbuster movie in Wellington, New Zealand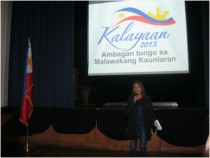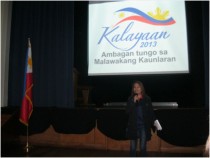 The Embassy of the Philippines in Wellington in coordination with The Filipino Channel (TFC) presented a free film showing of Filipino blockbuster movie "It Takes a Man and a Woman" on 23 June 2013 at the Queen Margaret College Hall as part of the activities marking the 115th year of the Anniversary of the Proclamation of Philippine Independence.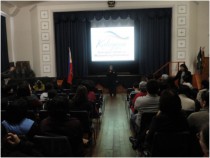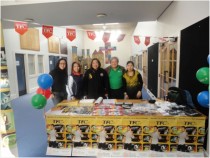 The Film Showing began with the singing of the Philippine National Anthem followed by a speech from Ambassador Virginia H. Benavidez warmly welcoming the moviegoers and inviting them to relax and enjoy the movie. She thanked TFC for making it possible to show a blockbuster movie for the Filipino Community and for its mission to reach Filipinos worldwide by providing a channel for Filipinos to connect with the latest developments and entertainment in the Philippines. With the addition of New Zealand to its reach encompassing Australia, United States, Europe and the Middle East, TFC will be giving the 36,000 members of the Filipino Community access to what is happening back home in the Philippines. Filipino movies have increasingly become popular among friends and communities from the Pacific Island nations and are now very good platform for projecting Filipino world-class talents in the performing arts and the richness and variety of Filipino culture. For her part, Ms. Linlin Linsao, Territory Sales and Distribution Head of ABS-CBN Global for Australia and New Zealand stated that through TFC, ABS-CBN New Zealand tries to make a difference in the lives of its subscribers and all Filipinos by providing services that both inform and entertain. Mr. Joval Moredo, Official TFC Dealer in New Zealand, also encouraged the moviegoers to keep current with events happening in the Philippines and to view their favorite Filipino stars on TFC, which is now being offered in New Zealand on a 24-hour basis via the Tagalog-Language premium programming service of ABS-CBN New Zealand.
"It Takes a Man and a Woman" is the much awaited big screen reunion of box-office stars Sarah Geronimo and John Lloyd Cruz and is the third instalment of the film series co-produced by Star Cinema and Viva Films. The film showing drew Filipino film fans of all ages, young and old alike.
The Filipino moviegoers in Wellington laughed, sighed, and cheered through the romantic comedy, a theme which is close to the Filipinos' fun-loving hearts. Filipino films are an important part of Philippine culture. It is a portal to Filipino values, beliefs, and lifestyle and TFC has been instrumental in bringing them into the homes of millions of Filipinos overseas who yearn for connections with the country they call home.