First ever Ambassador's Cup in Basketball brings together teams from companies in ChristChurch, New Zealand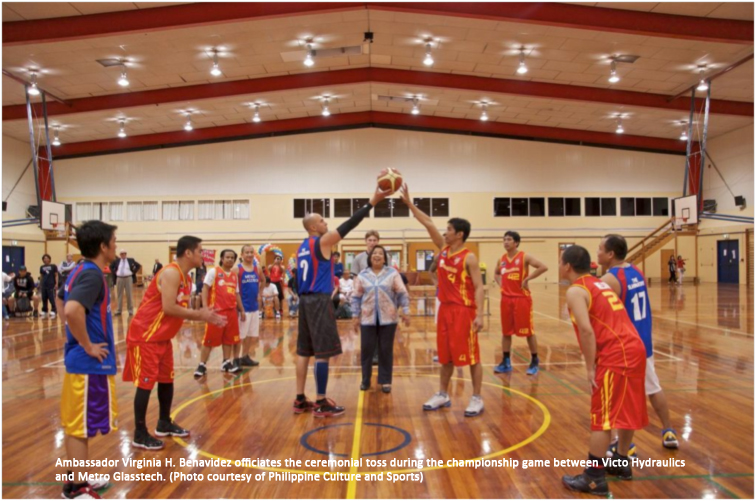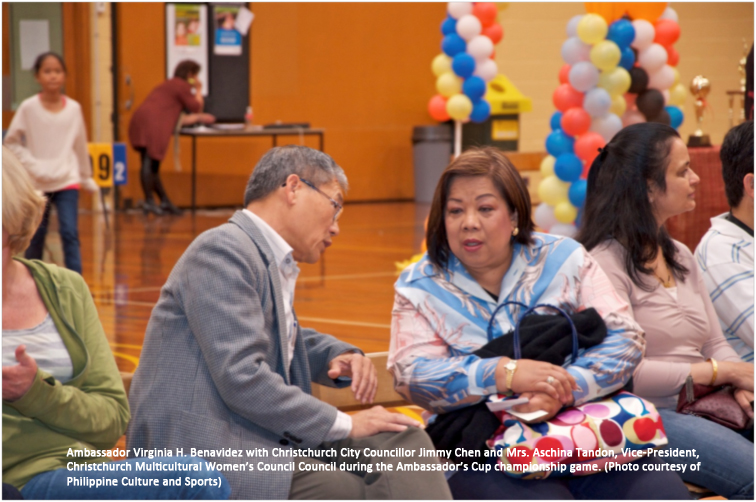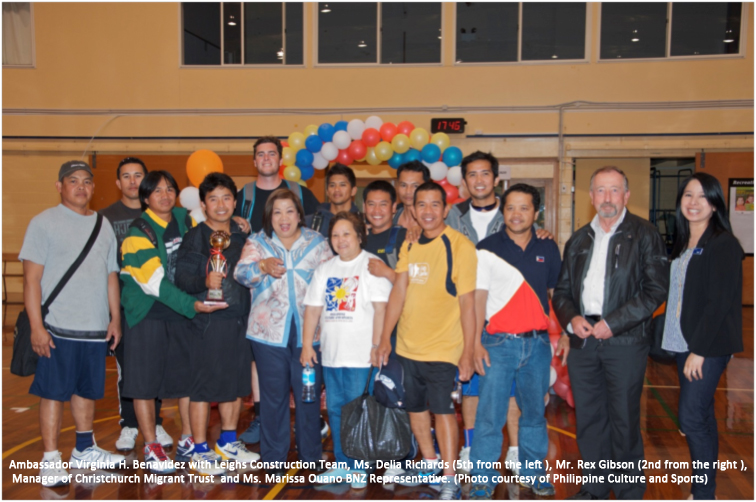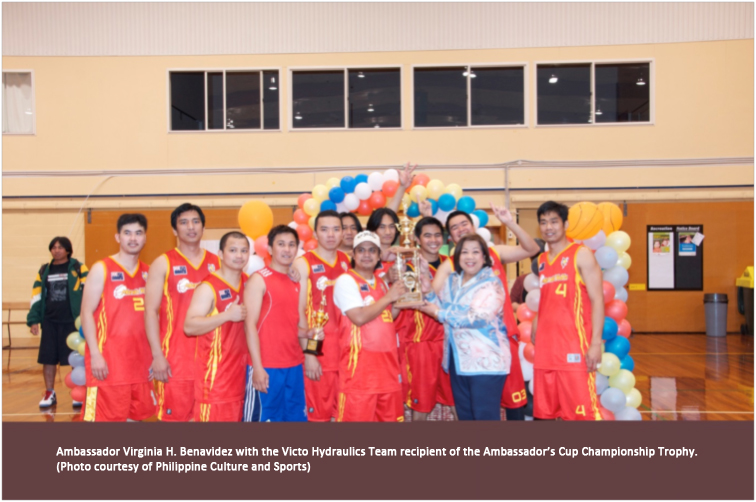 As the Philippine Embassy continues to promote closer ties through sports among the Filipino community in New Zealand, Ambassador Virginia H. Benavidez and Ms. Delia Richards of the Philippine Culture and Sports mounted the first ever Ambassador's Cup in Basketball in Christchurch on 24 March 2013. Companies employing Filipinos, namely, Leighs Construction, Buildtech, Metro Glass Tech, Caulders Stewart, Victo Hydraulics and Hamilton Jet fielded basketball teams that in a series of basketball games that provided wholesome fun, enjoyment and excitement and strengthened camaraderie and goodwill among Filipinos and their friends.
The championship games were witnessed by Ambassador Benavidez, Honorary Consul Peter Wait, Councillor Jimmy Chen, Mr. Surinder Tandon, President, Christchurch Multicultural Council, Mrs. Aschina Tandon, Vice-President, Christchurch Multicultural Women's Council, Mr. Rex Gibson, Manager, Christchurch Migrants Center, Ms.Lana Hart, Settlement Support, Ms. Marissa Oano, BNZ representative, employers and staff of companies, families and members of the Filipino community.
In her remarks, Ambassador Benavidez highlighted the importance of basketball as a great crowd drawer and showcase of Filipino talents back home in the Philippines, New Zealand and abroad and thanked the Philippine Culture and Sports, the participating companies and the teams and the organizers for making the games possible organizers, the distinguished guests for their presence and the Filipinos for their cheers and support. "Wherever basketball is played, the games bring so much joy and delight to the players and basketball fans, provide opportunity for Filipinos to have wholesome recreation and welcomed break from daily work and promote goodwill between the Philippines and New Zealand. The Philippine Embassy is thankful to all those who have sacrificed much to make this Ambassador's Cup happen for the first time in Christchurch as this has shown that basketball is indeed our national passion, one of the centrepieces of our national sports program, an exhibition of the Filipino people's prowess and skills in the local, regional and international arenas and a mirror of our national spirit promoting sportsmanship, fair play, camaraderie and teamwork," Ambassador Benavidez stated. The Victo Hydraulics Team won as the Champion, Metro Glass Tech as the First Runner-Up, Leighs Construction as the Second Runner-Up and as the Most Valuable Player. Trophies were donated by the Philippine Embassy.