Philippine Ambassador meets with the destination Queenstown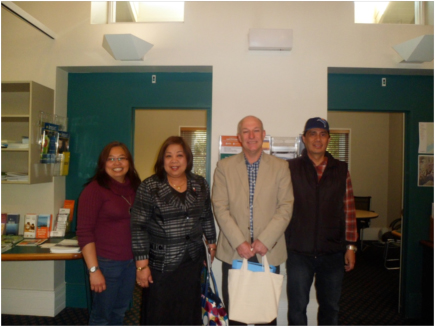 As the Philippine Embassy was in Queenstown for its series of Mobile Consular Services program entitled "The Philippine Embassy in New Zealand: Serving with a Smile, Going the Extra Mile and Reaching Beyond Our Grasp" for the benefit of Filipinos in Queenstown and the surrounding cities of the South Island in New Zealand on 12-15 April 2013, Ambassador Virginia H. Benavidez and Consul Arlene Gonzales-Macaisa made a business call on the Destination Queenstown's Chief Executive Graham Budd on 12 April 2013.
Discussions focused on Destination Queenstown's role in several areas of marketing Queenstown as a tourism destination including information provision, trade liaison and media promotion. The success of its tourism market strategy is apparent in the two (2) million visitors who come to Queenstown annually; seventy percent (70%) are international visitors and thirty percent (30%) are domestic visitors depending on the season. Australia is said to bring in the most visitor numbers with one million and China following with two hundred thousand (200,000) visitors. Mr. Budd noted that tourists from China are growing and that their numbers would be a valuable asset for Queenstown in the years to come.
Ambassador Benavidez noted that regular direct flights from major New Zealand centres and East Coast Australia to Queenstown has contributed significantly in increasing Queenstown's popularity and accessibility.
According to Mr. Budd, tourism is a significant contributor in New Zealand's economy, particularly in the area of employment. In Queenstown, sixty percent (60%) of the population is employed in the tourism industry.
Ambassador Benavidez thanked Mr. Budd for a fruitful meeting, and looked forward to further future exchanges between the Embassy and Destination Queenstown