Philippine Ambassador calls on MP Michael Woodhouse, Minister of Immigration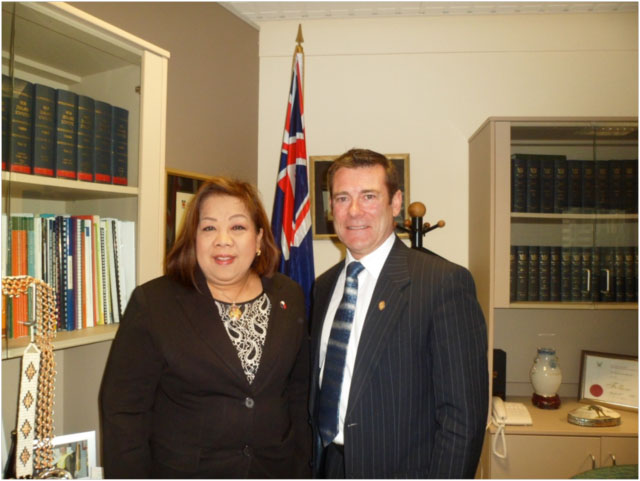 In line with the Philippine Embassy's continuing efforts to promote closer ties with New Zealand, Ambassador Virginia H. Benavidez, accompanied by Consul Arlene Gonzales-Macaisa, called on the Honorable Michael Woodhouse, the Minister of Immigration, Minister of Veterans' Affairs, and Associate Minister of Transport and a National List Member of Parliament (MP) based in Dunedin on 28 August 2013.
Minister Woodhouse welcomed Ambassador Benavidez and stated that Filipinos are valued migrants in New Zealand society, particularly now in Christchurch were the newest influx of skilled workers are mostly Filipinos. Ambassador Benavidez thanked Minister Woodhouse for his positive impression and deep appreciation for the roles and contributions of Filipinos in and other parts of New Zealand.
Their discussions and interactions focused on the increasing numbers of and preference for skilled Filipinos in the rebuild and reconstruction of Christchurch, the collaborative efforts between relevant Philippine and New Zealand government agencies and private companies for the equitable treatment, and the proper deployment and smooth entry of Filipinos to Christchurch.Ambassador Benavidez shared with Minister Woodhouse the steps being undertaken by the relevant agencies in the Philippines to address the specific aspects of recruitment and deployment of Filipino skilled manpower for the Christchurch rebuild and reconstruction.
Minister Woodhouse stated that he looks forward to further collaborating with the Embassy of the Philippines in communicating the importance of skilled Filipino workers in the Christchurch rebuild and reconstruction as well as their welfare,well-being and safety.
Ambassador Benavidez said that success stories of Filipino migrants in New Zealand strengthens the significant and growing people-to-people links between the Philippines and promotes deeper understanding and friendship between Filipinos and New Zealanders. Ambassador Benavidez thanked Minister Woodhouse for Immigration New Zealand's publication of its guides on "Working in the New Zealand Construction Industry" and "Living and Working on a New Zealand Dairy Farm" for both workers and employers. These guides are translated into Filipino and intended to serve as useful reference materials for Filipino workers