Philippine Ambassador calls on the Mayor of Queenstown, New Zealand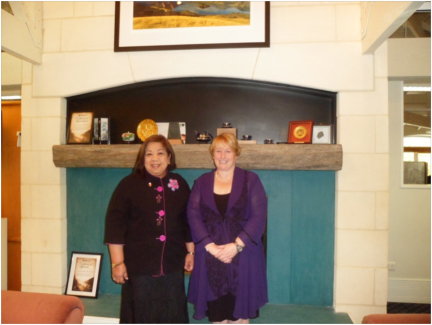 In line with the Philippine Embassy's continuing efforts to promote closer ties with New Zealand's local governments, Ambassador Virginia H. Benavidez, accompanied by Consul Arlene Gonzales-Macaisa, made an official and business call on Her Worship Mayor Vanessa van Uden of the Queenstown Lakes District in the South Island of New Zealand on 15 April 2013. The meeting was made during the simultaneous delivery of the Embassy's mobile consular services for the benefit of Filipinos in Queenstown and the surrounding cities of the South Island on 12-15 April 2013
Mayor van Uden warmly welcomed Ambassador Benavidez and expressed delight in hearing that Filipinos are thriving members of New Zealand society, particularly in Queenstown's multicultural community. She was excited to hear that the Filipino community in Queenstown is well organized and unified. QAMPI or the Queenstown Association of Migrant Pinoy Incorporated, the Filipino community organization in Queenstown, has two hundred (200) members who are active in the multicultural fabric of Queenstown's social and economic society. Ambassador Benavidez shared with the Mayor that there is an increasing Filipino community in the South Island comprising of dairy farm workers and entrepreneurs.
Discussions focused on Queenstown's "Shaping Our Future" project. The project is a people led process designed to use collective community expertise to create a great future for the district. "Shaping Our Future" is a collaborative process which seeks consensus on a range of issues. The process begins with public forums and online discussions which progress to establishing task forces to work through issues. Recommendations are finally presented to local and national agencies as required. Mayor van Uden said that she would like to bring the Filipino community to actively participate in the project. Ambassador Benavidez stated that she will arrange for QAMPI's President, Ms. Cristy Ross, to coordinate with the Council.
Ambassador Benavidez thanked Mayor van Uden for the meeting, and looked forward to collaborating in projects to enhance people-to-people ties between the Philippines and New Zealand.