Philippine Embassy in Wellington Continues its Outreach Services For Filipino Workers in New Zealand's South Island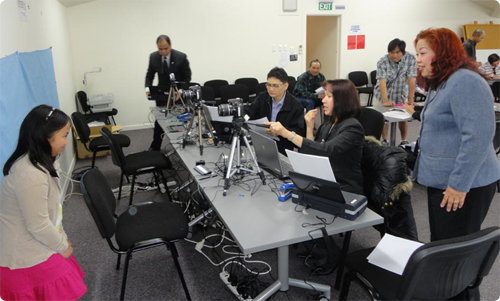 The Philippine Embassy in Wellington conducted its second mobile consular service in New Zealand by going to Ashburton where more than 600 Filipino dairy workers are staying on 18-20 November 2011. This is part of the Embassy's people and service diplomacy to give priority and render service to Filipinos who are employed in the dairy farms and other service sectors as they and their families will find it too costly and difficult to travel to Wellington for the renewal or application of new passports and other consular needs. Many of the dairy workers and their families live in various areas far from the city. . Called "The Philippine Embassy in New Zealand: Serving with a Smile, Going the Extra Mile and Reaching Beyond Our Grasp" mobile consular services, a total of two hundred ninety-nine (299) Filipinos availed of the consular services covering passport renewal/issuance, authentication/notarials, NBI fingerprinting and dual citizenship acquisition.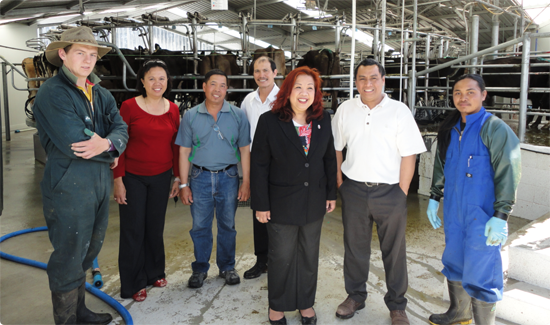 In cooperation with the Filipino Dairy Workers of New Zealand Incorporated led by Mr. Sam Bruzo, the Philippine Embassy Team composed of Ambassador Virginia H. Benavidez, Minister and Consul Giovanni Palec, Ms. Levy Strang and Mr. Julius Verano rendered consular services to Filipinos from Ashburton and the surrounding areas of Timaru, Oamaru, Rakaya, Balcutha, Temuka and Christchurch. Mr. Sam Bruzo and his members acted as volunteers to assist in the scheduling of passport applicants and processing of the documents, facilitate arrangements for the use of the Community Hall and reservations for the Embassy's accommodations, provide security and help in the information dissemination for this outreach activity.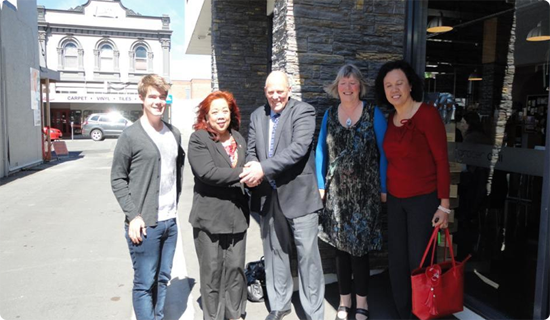 Ambassador Benavidez also met with the leaders of the Filipino community in Ashburton and the surrounding areas who gave their commitments to be the main coordinators and support groups for the Embassy's contingency and disaster preparedness plan as well as assist in the on-site overseas absentee voting registration and the holding of the Filipino language and cultural heritage classes for the Filipino children and youth.
While in Ashburton, Ambassador Benavidez met with current Mayor Angus McKay and former Mayor Bede O'Malley, Mr. Hamish Davison, President of the Federated Farmers, Ms. Raewyn Barclay, Community Development Worker for Migrants and New Arrivals, Pastor Carl and Liza Anderson and Mr. Rob Davison of New Life Church who all spoke highly of the Filipinos' work ethics, sacrificial attitude, active involvement in local community affairs, good reputation and largely seamless integration into the New Zealand way of life. In their respective ways, they continue to assist the Filipinos in resolving employment matters, addressing job related concerns and strengthening their spiritual lives. There were also discussions on possible areas of cooperation on dairy production, training of dairy workers and use of suitable farm technologies in New Zealand to boost dairy productivity of the Philippines.
Ambassador Benavidez visited two dairy farms manned by Filipino dairy workers who gave their personal accounts on how they milk hundreds of cows using the latest platform technology, their experiences in and exposure to modern dairy farm facilities, their adjustments to daily farm work and interaction with their Kiwi employers. They also showed their housing accommodations which they find suitable and comfortable for them and their families. It is heartening to know that the Filipinos in Ashburton represent our people and country well. Mr. Sam Bruzo and the members of the Filipino Dairy Workers in New Zealand Inc. reiterated their desire to share the knowledge and skills they have gained in New Zealand with the Philippines and their willingness to assist in putting up model dairy farms using New Zealand technology and training Filipino dairy farmers to increase their dairy production. Furthermore, the meetings with the officials were very informative and allowed Ambassador Benavidez to have a better insight and perspective about New Zealand, gain first hand information about the situation of Filipinos in local areas and make the Philippine Embassy's presence and services felt among the Filipino and local communities.
In line with the Embassy's priority to make its services more accessible and convenient to Filipinos in New Zealand especially to those who find it difficult and costly to travel to Wellington, the Embassy team will undertake the third of a series of mobile consular services in Invercargill, the southernmost part of New Zealand where nearly a thousand Filipinos, mostly dairy and farm employees are working on 24-27 November 2011. This will be followed by the fourth mobile consular services in Auckland where 23,000 Filipinos are located on 28-30 November 2011.
The Filipino community members were unanimous in reiterating their deep gratitude to the Philippine Government through the Philippine Embassy for rendering the much needed and sought after consular services right where they are residing and working. For them, this marked improvement in the delivery of more effective and efficient services is a historic first in New Zealand and highlighted the Philippine Government's priority and concern for their welfare and well-being as well as a distinct recognition of the vital roles and contributions of the global Filipinos to nation-building in the Philippines and New Zealand. Ambassador Benavidez stressed that the Embassy will always be there for them 24/7 as protecting and advancing the interests of overseas Filipinos make up one of the three key pillars of Philippine Foreign policy.