New Zealand's Ambassador-Designate gets a glimpse of Philippine Culture through Filipino Cuisine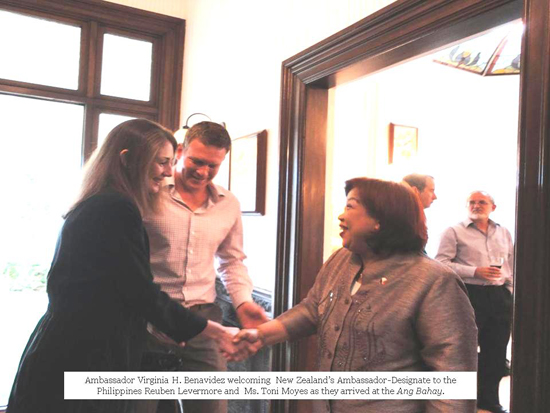 New Zealand's next Ambassador to the Philippines, Mr. Reuben Levermore, together with Ms. Toni Moyes, Special Advisor Graeme Waters, Mrs. Audrey Waters, Major Lee Turner, Ms. Chris Anderson and Mr. Tom Halliburton were given an introduction to the richness and variety of Filipino cuisine during the dinner hosted by Philippine Ambassador Virginia H. Benavidez at the "Ang Bahay" (Embassy Residence) on 11 January 2012. They were joined by members of the Filipino community, namely, Mr. Antonio Helbano, Mrs. Angela Helbano and Ms. Agnes Espenida and Philippine Embassy's Consul General Marcos Punsalang, Mrs. Marissa Punsalang and Cultural Officer Liza Jane Estalilla. Amidst the distinctively Filipino ambiance and setting of the Residence, Ambassador Benavidez created a special menu featuring comfort foods, "Sinigang na Isda," (Fish in tamarind based soup) Caesar's Salad, Pinoy style, Lemon sorbet, "Lumpiang Sariwa" (Fresh vegetables springroll), "Beef Pochero" (Beef in tomato sauce with vegetables, chickpeas and chorizo), Chicken Adobo (Chicken with garlic, soy sauce and vinegar), Fresh Fruits in Dome and Almond Orange Cake with vanilla ice-cream and dried mangoes.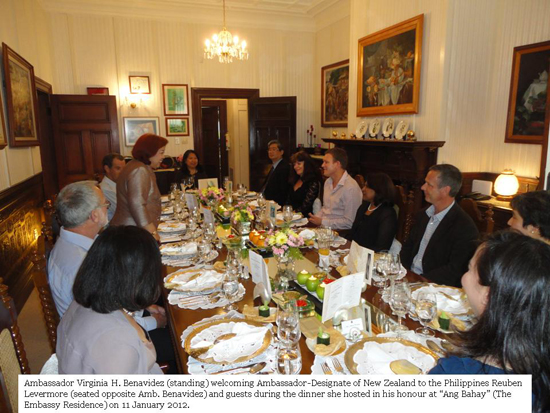 In welcoming Ambassador Levermore and guests, Ambassador Benavidez thanked them for honouring her invitation to experience Filipino hospitality at home which is just a foretaste of what Ambassador Levermore and foreigners will surely have in the Philippines. As Ambassador Benavidez said, Ambassador Levermore will be representing his country and people at a time of significant developments in the Philippines and increasing collaboration and people-to-people exchanges between the Filipinos and New Zealanders especially in the political, security, economic and socio-cultural spheres. She reiterated the deep appreciation of the Philippine Government and People for the immediate assistance of the New Zealand Government through its donation of $500,000 to the Philippine Red Cross for the victims of typhoon "Sendong" last December. "Indeed, the kindheartedness and generosity of New Zealand demonstrate a true friend in times of great need," Ambassador Benavidez stated.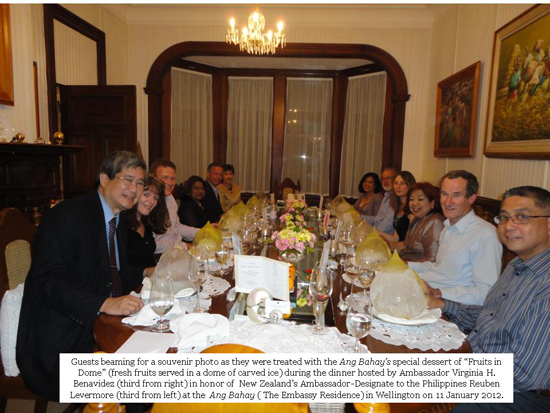 In his remarks, Ambassador Levermore expressed deep appreciation for the warm reception and personal attention extended to him, Ms. Moyes and other guests who felt very much honoured and happy to be treated to the renowned Filipino way of sharing the blessings of a bountiful meal around the dinner table. "I am grateful that you have made us feel very much welcome in your home and Filipinos are famed for their hospitality and vibrant culture. This is the third occasion I have been here and each time reflects the close ties between our countries and people," Ambassador Levermore said. He is looking forward to assuming his post in the Philippines soon and contributing to making New Zealand-Philippines relations grow from strength to strength.
Throughout the dinner, there was lively interaction among the guests as the conversation centred on the various facets of Philippine and New Zealand culture, tourism, areas of cooperation and the similarities and values shared by both countries as close friends and partners.