Philippine Embassy meets with the Filipino community in ChristChurch, New Zealand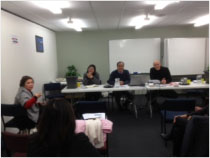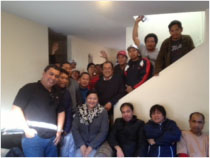 In connection with the participation of Filipinos in the rebuild and reconstruction of Christchurch, Consul Arlene Gonzales-Macaisa and Labor Attaché Atty. Jalilo O. dela Torre met with members of the Filipino Community and the Filipino workers in Christchurch on 24 and 25 May 2013 respectively.
The meeting with the Filipino Community in Christchurch was organized by Ms. Delia Richards, Liaison Officer for Philippine Workers' Social Integration Program of the Christchurch Migrants Centre. It was held simultaneously with the "Information Night" service of the Christchurch Migrants Centre. Approximatly 25 Filipino migrant workers and Filipino residents in Christrchurch attended. Mr. Henning Bolchers of the Human Rights Commission of New Zealand delivered a presentation regarding the New Zealand Human Rights Commission and its work, advocacies and services. Police Officer Li Ying, Community Relations Officer of the Christchurch Police Department, also gave a presentation on the duties, responsibilities and services of the Police Department.
Atty. dela Torre and Consul Gonzales-Macaisa spoke on the recruitment process for Filipino workers wishing to work in New Zealand as well as answered questions regarding the excessive recruitment fees charged to the workers by manning agencies and immigration advisers. They also conveyed the information they learned from their earlier meeting with representatives of Immigration New Zealand, the Ministry of Business Innovation and Employment (MBIE) and the Canterbury Employers' Chamber of Commerce (CECC).
On 25 May 2013, in coordination with Mr. Sam Bruzo, a member of the Filipino community in Christchurch, Consul Gonzales-Macaisa and Atty. dela Torre visited several Filipino workers in Christchurch. The Filipino workers were of varied skills, namely, carpenters, machinists, and machine operators. Discussions focused on the manner by which the Filipino workers were recruited and whether they were satisfied with the process or not as well as their current status and needs in Christchurch.
Christchurch currently needs around 30,000 workers for the rebuild that will take at least 20-30 years to complete. A huge demand for skilled workers will definitely be maintained for some years. Interactions between the Philippine Embassy and the Filipino community in Christchurch are being undertaken as part of the Embassy's service diplomacy and outreach mission to various parts of New Zealand.