Philippine Embassy meets Government Officials in ChristChurch, New Zealand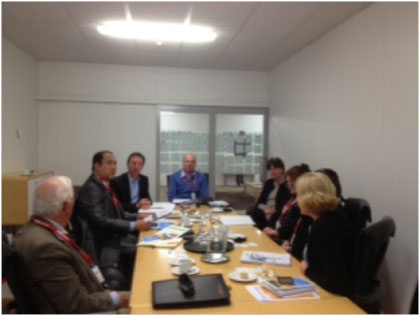 In line with the Philippine Embassy's objective to promote the welfare and interests of Filipinos in New Zealand and given the increasing numbers of Filipino workers in the rebuild and reconstruction of Christchurch, Consul Arlene Gonzales-Macaisa, Labor Attaché Atty. Jalilo O. dela Torre, and Philippine Honorary Consul in Christchurch Peter Wait, met with representatives of Immigration New Zealand, the Ministry of Business Innovation and Employment (MBIE) and the Canterbury Employers' Chamber of Commerce (CECC), on 24 May 2013 in Christchurch.
Atty. dela Torre informed the New Zealand government officials on the work of the Philippine Overseas Employment Administration (POEA) and the role it plays in the deployment of Filipino workers to Christchurch. He also stated that he is gathering inputs for the POEA to design a deployment framework specific only to New Zealand taking into consideration the concerns and requirements for the employers and Immigration New Zealand.
Discussions focused on the work of Immigration New Zealand with regards to approval of visas for temporary Filipino workers for Christchurch. Immigration New Zealand's standards must be met by employers intending to hire from the Philippines based on the immigration requirements in the Long Term and Immediate Skill Shortage Lists of New Zealand.
Many of the workers arriving from the Philippines fit in the Immediate Skill Shortage List and are able to apply for a temporary work visa. The Philippines is currently being given the highest numbers of employment visas by Immigration New Zealand with a total of 422 for the Christchurch rebuild alone.
Subsequent discussions were on the common goals of Immigration New Zealand, MBIE and CECC which is based on value that the New Zealand government places on hiring migrant workers and the importance of providing them with information guides regarding living and working in New Zealand such as settlement support, health care, employment regulations, cultural information including language translation, and others. Employers are encouraged to provide the workers with all the necessary contact details for Immigration New Zealand, MBIE and CECC in order for the workers to be able to directly inquire from said offices on issues concerning their stay in New Zealand. They also wish to inform migrant workers that New Zealand regulations regarding housing as well health and safety do not distinguish between migrant workers and regular New Zealand employees.
At the end of the meeting, Mr. Walsh, on behalf of the group, reiterated the New Zealand government's emphasis on fair and equitable recruitment of Filipino workers. Atty. dela Torre, Consul Gonzales-Macaisa and Honorary Consul Wait thanked the officials for meeting with the Philippine representatives.