Philippines and New Zealand hold bilateral consultations on the Trans-Pacific Partnership (TPP)
Philippines-New Zealand bilateral relations took another major step forward on May 30, with the holding of the 3rd Round of Bilateral Consultations in Wellington. The Consultations follows up on the results of the State Visit of President Benigno S Aquino III to New Zealand in October 2012.
The Philippine delegation, headed by Foreign Affairs Assistant Secretary for Asian and Pacific Affairs Maria Theresa P. Lazaro, met with officials of the Ministry of Foreign Affairs and Trade (MFAT), led by Division Manager for South and Southeast Asia Stephen Harris, to discuss a wide range of issues of mutual and regional interest.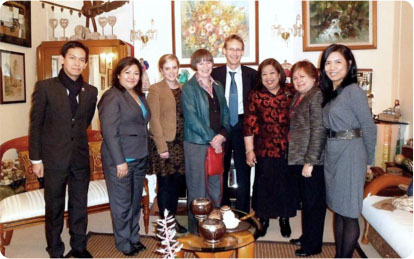 The Philippine and New Zealand officials noted the developments in trade and investment relations as well as in development, geothermal energy, defense, tourism, education, and ICT cooperation. Also discussed were measures being taken towards the smooth and successful implementation of the Working Holiday Scheme Arrangement and the Philippines-New Zealand Dairy Project.
There was a lively and productive exchange of views on regional and international matters covering, among others, ASEAN, the West Philippine Sea, Mindanao, peacekeeping, and the Pacific Islands Forum. The officials also discussed preparations for high level visits, and the Philippines' hosting of the World Economic Forum - East Asia meeting in 2014 and the APEC in 2015.
Prior to the consultations, Philippine Ambassador to New Zealand Virginia H Benavidez hosted a dinner at the official residence, Ang Bahay, for the Philippine and New Zealand delegations, who engaged in informal discussions on various bilateral and regional issues.
The Philippines-New Zealand Bilateral Consultations was first convened in Manila in 1999, followed by a second meeting in Wellington in 2000. In their meetings in July and August 2012, Foreign Affairs Secretary Albert F. del Rosario and Foreign Minister Murray McCully agreed that regular dialogue was necessary to sustain the energised momentum of bilateral relations. The ministers also agreed that this could be done through the reconvening of the Bilateral Consultations mechanism.
The next Bilateral Consultations will be held in Manila in 2014.