PHL Embassy and Filipino community warmly welcome Smart Gilas Pilipinas in New Zealand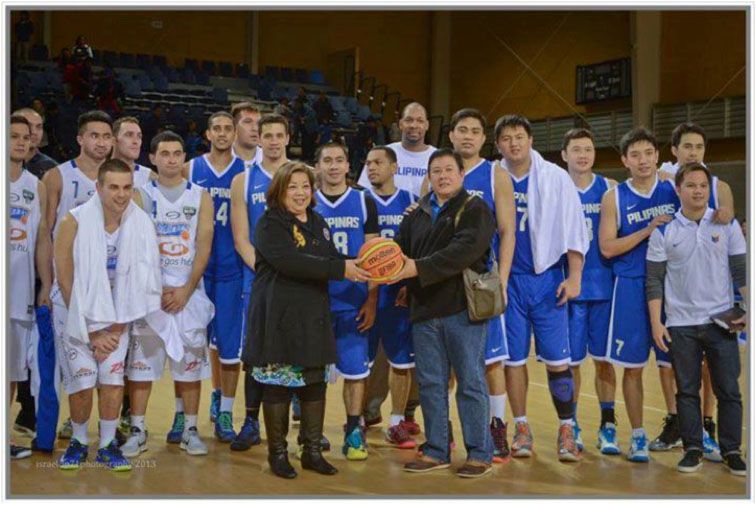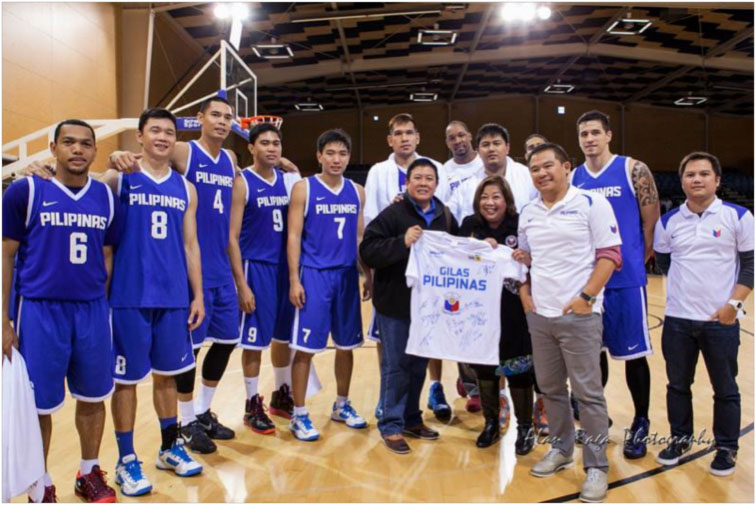 SMART GILAS PILIPINAS, the Philippine National Men's Basketball Team, was in New Zealand for buildup games on 09-19 July 2013 to prepare for the FIBA Asia Championship in Manila on 1-11 August 2013. Upon arrival in New Zealand, SMART-GILAS went straight to Napier where the team had a 5-day basketball camp. They proceeded to Wellington on 15-17 July to play against the Wellington Saints and then flew to Auckland on the eve of 17 July to play against the Rangers and the Tall Blacks, New Zealand National Team on 18 July. The New Zealand tune-up games were the first time the team played together since the final 12 roster was announced by Coach Chot Reyes. The team returned to Manila on 19 July.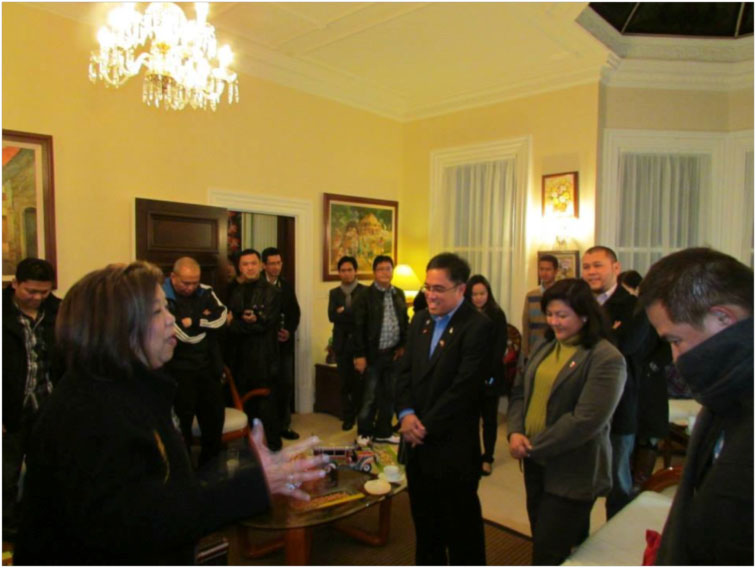 Everywhere they went, SMART-GILAS PILIPINAS received a rousing and exciting welcome, all out support, resounding applause and endless cheers from the Filipino community and basketball fans in New Zealand.
Ambassador Virginia H. Benavidez hosted a fellowship dinner in honour of the SMART-GILAS team at "Ang Bahay" (Philippine Ambassador's residence) on 15 July 2013. In her welcoming remarks, Ambassador Benavidez stated that the presence of SMART GILAS PILIPINAS Team in New Zealand "brings great pride and honour to the Philippines and much excitement and delight to the Filipino community and basketball fans. Basketball is considered as one of our national passion, a centerpiece of our sports development program and an exhibition of our people's prowess and excellent performance in sports. Through basketball, the Filipino sportsmen are a force to be reckoned with in national, regional and international arenas and become ambassadors of goodwill in promoting friendship and camaraderie. Please take with you our prayers, best wishes and cheers for greater success and victory in the forthcoming FIBA Asia Championships and all your future games." Both Ambassador Benavidez and Coach Chot Reyes were so happy to meet each other again, this time in Wellington as they recalled the exciting basketball tournaments held in Brunei Darussalam and the enjoyable golf games they played with Filipino and Bruneian golfers a few years ago.
The Philippine Embassy team and families, Fr. Elmer Ibarra, SVD, and Parish Priest of St. Patrick's Parish in Wainuiomata, the officers and members of the Wellington Filipino Sports Association and the Pinoy NZ Lower Hutt Basketball Club, Inc. and friends from the Filipino community, had a great and enjoyable evening of fun, laughter and fellowship with SMART GILAS Coach Chot Reyes, Coach Jong Uichico, Team Manager Butch Antonio, Assistant Coach Josh Reyes, Team Physiotherapist Dexter Aseron, Team Logistics Manager Rogelio Talabot, New Zealand Team organizer David Perez, Veteran international basketball mentor Tab Baldwin and players Marcus Douthit, Jimmy Alapag, Jayson Castro, Ranidel De Ocampo, Larry Fonacier, Jeff Chan, Gabe Norwood, LA Tenorio, Japeth Aguilar, Gary David, Marc Pingris, Beau Belga and Junmar Fajardo. Coach Reyes conveyed the deep appreciation of the SMART GILAS PILIPINAS Team for the warm reception and gracious hospitality as they readily gave in to many photo opportunity requests from the Philippine Embassy officers, staff, families and members of the Filipino community, sang Filipino and English songs from the Magic Sing karaoke set, cracked jokes, rendered special song and dance numbers, played "sungka" and felt at home and relaxed amidst the Filipiniana ambience and atmosphere of "Ang Bahay." They thoroughly enjoyed a hearty Filipino dinner of "Pork Sinigang" soup, "Kare-Kare" (Beef, Tripe and Vegetables), Fish and Potato cutlets, Meat Springrolls, Sizzling Shrimp Gambas, Pork Barbecue, "Pancit Canton" (Noodles with Meat and Vegetables), home-made "Taho" (Soybean, Tapioca Pearls and Cane Sugar syrup), "Leche Flan" (Egg custard) and "Churros" with Hot Chocolate especially prepared for the Team and the guests on this joyful and special occasion.
SMART GILAS PILIPINAS played against the Wellington Saints on 16 July at the Te Rauparaha Arena in Porirua. Ms. Melody Pagalilawan of the Wellington Filipino Choir gave a stirring rendition of the Philippine national anthem before the start of the games. Ambassador Benavidez, the Embassy officers, staff and families and thousands of Filipinos and friends from New Zealand turned up in full force to support and cheer for the Philippine national team. Basketball fans filled up the stadium and their cheers, shouts and applause reminiscent of basketball games played in Manila reverberated throughout the game. Several New Zealanders were amazed at how the Filipinos demonstrate their support and passion for basketball. They said it was one of the most popular and well attended games played in Wellington. Filipino fans lined up after the game to have their photos taken with the SMART GILAS Team.
The SMART GILAS PILIPINAS' play schedule in New Zealand serve as the final push ahead for the 2013 FIBA Asia Championships.
"The genuine, spontaneous and massive outpouring of support, hospitality and pride for the Philippine National Men's Basketball Team from the Filipinos and fans in New Zealand as well as the friendship forged with and training received from New Zealand basketball teams will undoubtedly promote closer people-to-people ties between the Philippines and New Zealand and open up more opportunities for SMART GILAS PILIPINAS to come back to New Zealand and other Filipino basketball teams to also play here," Ambassador Benavidez stated.