PHL Embassy hosts easter family gathering with Filipinos, New Zealanders and Foreign friends for the second year in Wellington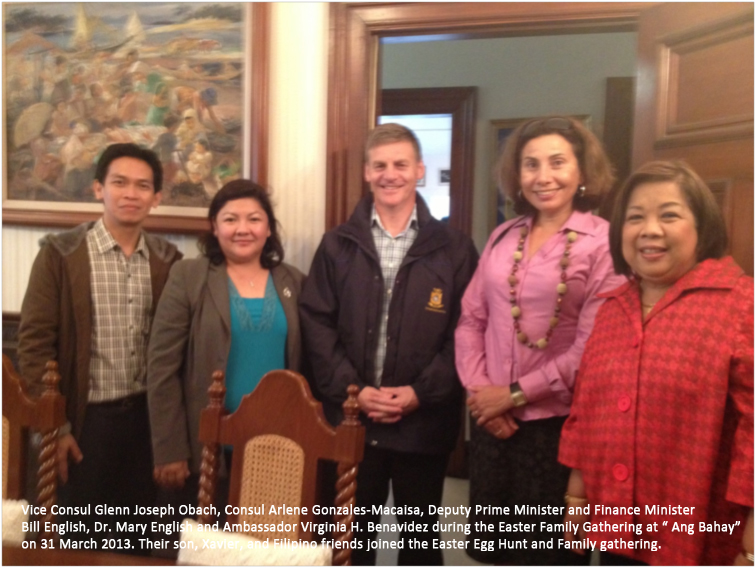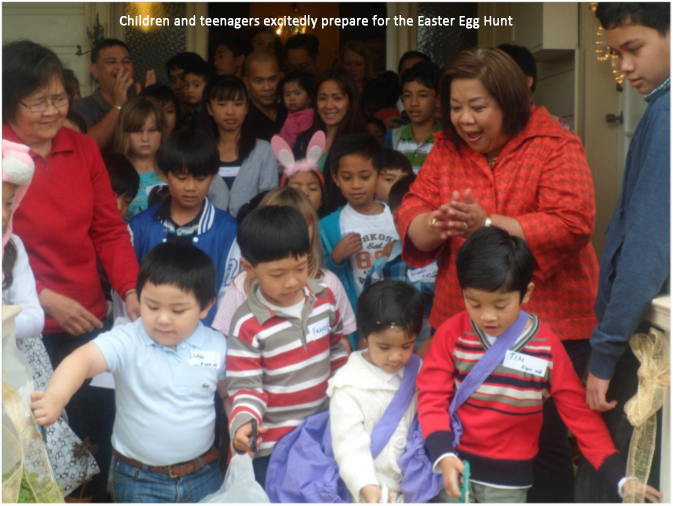 As the Philippine Embassy in New Zealand continues to embark on its cultural and people diplomacy, Ambassador Virginia H. Benavidez hosted an Easter gathering for the second year with the Filipino community, Embassy personnel and friends from New Zealand and other countries and their families at "Ang Bahay" (Embassy residence) on 31 March 2013. Ambassador Benavidez warmly welcomed all the guests and thanked them for joining the Easter celebration with their families and loved ones. More than 120 guests and their children celebrated the significance of our LORD's resurrection through thanksgiving prayer, egg hunt, music and food. The children and teenagers had a grand time hunting for 500 Easter eggs around the sprawling garden. As the Filipinos and their New Zealand friends said, "this second Easter celebration at the Embassy residence is really an afternoon to remember. We hope that this will be repeated next year and in the years to come. GOD has even blessed us with several hours of pleasant weather, perfect for egg hunting in the afternoon when it was pouring rain in the morning."
The richness and variety of Filipino culture filled up "Ang Bahay" a truly Filipino home distinctively decorated and furnished by some of the finest art works by Filipino artists such as Jose Joya, H.R. Ocampo, Malang, Martin Manero, Paco Gorospe, Rodel Caparas, Pulido, Tagle and other Filipino artists, glass sculptures by Ramon Orlina, "Sarimanok" brass sculpture by Abdul Imao, living room sets by Ed Yrezabal, hand crafted dining sets by Pampanga craftsmen, colourful "sorbetero" ice-cream carts, typical "taho" containers, Jollibee icons, "Balikatan sa Kaunlaran" dolls with costumes designed by Patis Tesoro, woven tapestries by Narda's, antique narra cabinets and wooden furnitures, uniquely designed shell decorations and table settings, baskets, potteries, lamp fixtures and an array of Filipino furnishings and handicrafts. "We really feel we are in the Philippines, we can truly be proud of our different products and home decor and we can now say that the Ambassador's residence is a showcase of Filipino creativity", several Filipinos said. Many of them enjoyed taking photos in the different areas of "Ang Bahay".
Ms. Arla Fontamillas, a leading singer in the Philippines and a scholar at University of Victoria gave a superb rendition of popular Filipino and English songs. Everybody thoroughly enjoyed the sumptuous spread of baked macaroni, corn dog, potato salad, soft bread rolls, chicken fingers, chiffon custard cake, carrot cake, ice-cream served from authentic Filipino ice cream cart and home made "taho" scooped from typical container.
The gathering made Easter more meaningful to everyone present, projected Filipino hospitality and culture and enhanced closer people-to-people friendship and understanding between the Philippines and New Zealand.