Filipino wins the Best Farm Manager of the year from Otago, New Zealand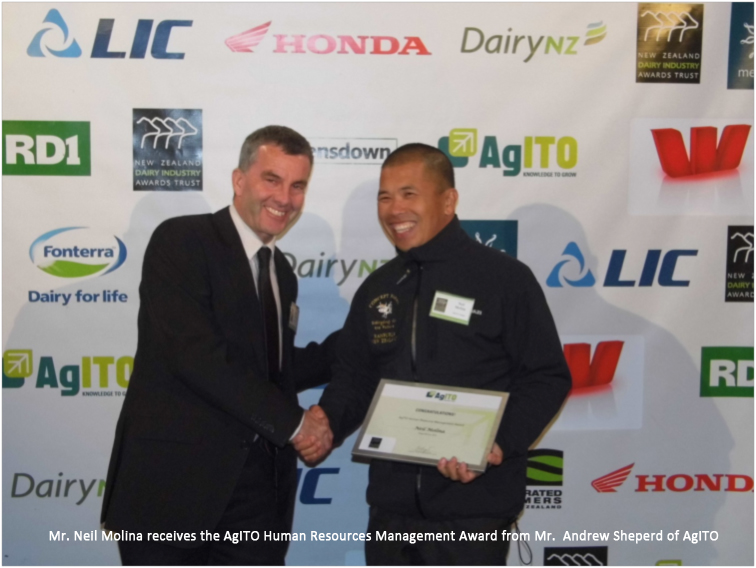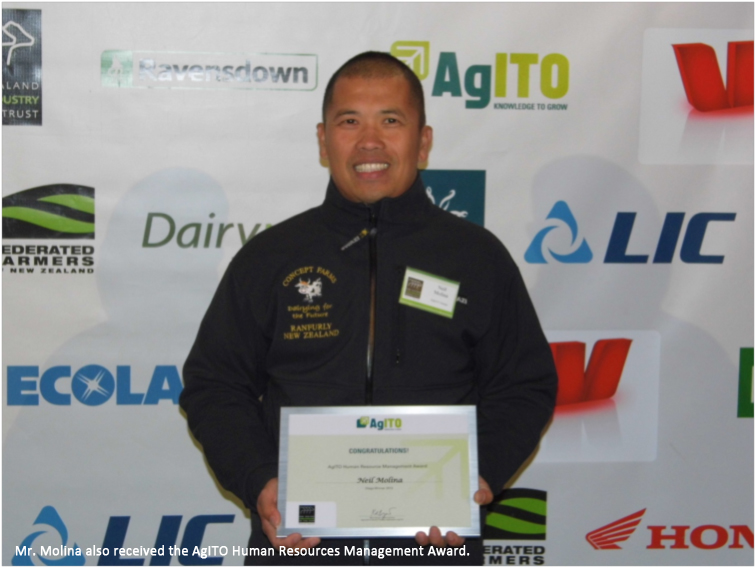 Mr. Neil Molina, a Farm Manager at Concept Holding in Ranfurly, won the Best Farm Manager of the Year from Otago during the Dairy Industry Awards in Balchutha on 6 April 2013. His regional title is part of the annual search for farmers from different parts in New Zealand and at various levels of the dairy industry who excel and achieve significant milestones to qualify for Sharemilker/Equity Farmer of the Year, Farm Manager of the Year and Dairy Trainee of the Year. Mr. Molina also received the AgITO Human Resources Management Award. He is employed by Greg and Kelly Kirkwood who have 13 Filipinos out of 15 dairy workers taking care of 2,300 cows. As a Farm Manager, Neil contributed immensely to maximizing operations for high production, ensuring good staff support and teamwork and upgrading farm efficiency. He proudly pointed out that the farm he is managing may not have the latest technology but the skills, sacrificial service and positive work attitude of the farm workers and staff and the full support of their employers are the keys to the continuing success and viability of their farm in Ranfurly. "I am blessed to have very good and wonderful farm owners and dedicated and motivated farm workers and together we strive to make our farm as highly productive and efficient as possible. This award belongs to them," Neil said. He was also featured in the cover of the Guide for Migrant Dairy Farm Workers produced by Immigration New Zealand last year.
In congratulating Neil Molina, Philippine Ambassador Virginia H. Benavidez stated that he is a shining example of Filipino world-class talent and an inspiration for many Filipinos in the dairy sector of New Zealand who are acknowledged and appreciated for their positive work ethics, sacrificial service, exemplary performance and commendable skills. "Whenever I visited dairy farms in the North and South Islands, the unanimous and heartwarming feedback gathered from farm owners, managers and officers of farmers' organizations is that the Filipinos have changed the dynamics of the farms. Together with the other Filipinos in the dairy sector whose works and talents have been recognized in New Zealand, you continue to do our country and people proud!" Neil Molina formerly managed the Batangas Dairy Cooperative (BADACO) and comes from a family involved in the dairy sector. His father, Mr. Benjamin Molina is a retired teacher in agriculture of the dairy farm teaching facility of the Sultan Qaboos University in Oman and his brother, Mark Molina, is helping him manage his asset buildup as a sharemilker. Together with his wife, Myra, sons Jhiro (11) and Clyde (5) and daughter, Daffodil (10), Neil continues to pursue his dream of securing a good education for his children, carries out his daily roles and responsibilities to the best of his ability and looks forward to helping the Philippines develop its dairy industry for the benefit of the Filipino people.