Filipino community in Wellington donates to Caritas Aotearoa New Zealand for victims of super Typhoon haiyan (yolanda)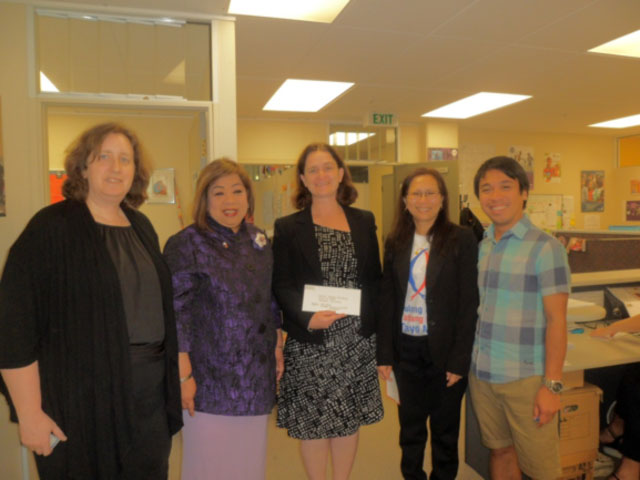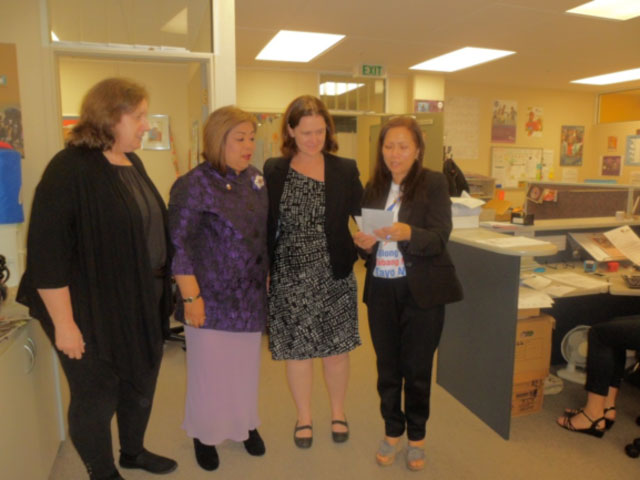 The Filipino community in New Zealand, Filipino organizations, individuals and community groups in the Wellington area, spearheaded by the Federation of Filipino Associations, Societies and Clubs in New Zealand Inc. (FFASCNZ Inc.) in conjunction with the Philippine Embassy, held a simultaneous Street Appeal in Wellington, Lower Hutt and Porirua on 21 November 2013 and a Special Concert at the Wellington's Civic Square on 23 November 2013 to raise funds for those affected by Typhoon Haiyan/Yolanda.
Filipinos from the Wellington Greater Area appealed to fellow Filipinos, New Zealanders , people from other countries and the general public to support the Typhoon Haiyan Philippine Appeal. An overwhelming and outpouring of generosity and solidrity garnered a total of NZ$55,383.80 during the simultaneous Street Appeal and NZ$3,562.60 during the Special Concert at the Wellington Civic Square, according to the official count of Westpac NZ. New Zealanders, foreigners and the public generously gave from their pockets and shared graciously from their hearts.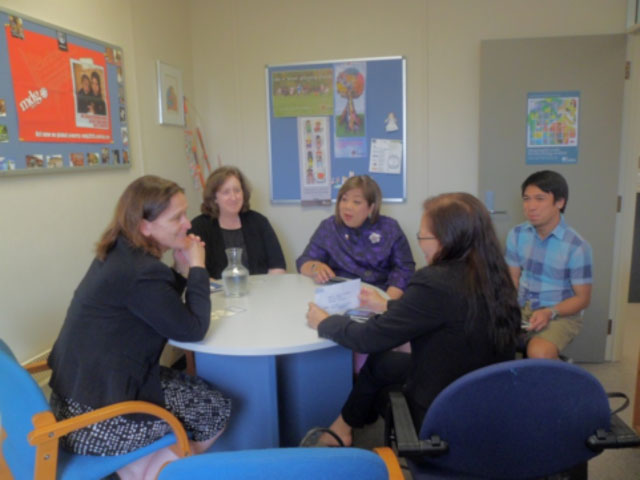 All funds raised were donated equally among the Red Cross, UNICEF and Caritas. On 04 December 2013, Ambassador Virginia H. Benavidez and Consul Arlene Gonzales-Macaisa witnessed the presentation of a check from FFASCNZ Secretary Ms. Rolyn Demafiles, in the amount of NZ$19,694.48 to CARITAS Aotearoa New Zealand. The check was presented to Ms. Julianne Hickey, Chief Executive Officer of CARITAS NZ. Also present were Mr. Leo Duce, Programmes Officer, and Ms. Lisa Beech, Research & Advocacy Coordinator.
Ms. Hickey said CARITAS Aotearoa New Zealand has an Appeal for the Philippines to support relief following the massive devastation of Typhoon Haiyan and the earthquakes that hit the Central Philippines. With support from individual donors and the New Zealand government, CARITAS NZ is contributing a million dollars to a global Caritas Appeal for $12 million. She informed Ambassador Benavidez that CARITAS NZ's Coordinator for Humanitarian Programmes, Mark Mitchell, is currently in the Philippines leading the international Caritas relief team supporting Caritas Philippines. Mr. Mitchel is heading a five-member Emergency Response and Support Team based in Cebu.
Ambassador Virginia H. Benavidez stated that the Government and People of the Philippines will always remember the assistance, concern and care that CARITAS NZ continues to demonstrate especially in times of disasters and calamities. "Thank you New Zealand for the mounting groundswell of sympathy, support and solidarity. You are truly a close friend and valued partner who knows, feels and understands how it is to go through a massive disaster and undertake the hugely enormous tasks of reconstruction, rehabilitation and rebuilding. Engraved in our hearts are your prayers and messages to the Filipino people of Kia Kaha (Be strong), Arohanui (With great love) and Taiki e (We are one)," Ambassador Virginia H. Benavidez stated.
She informed Ms. Hickey that the Philippine Government is now identifying vulnerable areas and priority needs of the people of Central Philippines in order to focus on long-term reconstruction and rebuilding of homes, schools and infrastructure and the restoration of livelihoods. The Philippine Government is also giving priority to the psychosocial needs of the people and is now working with counsellors and psychiatrists for the mental and emotional well-being of those affected by Typhoon Haiyan.
To donate to CARITAS NZ's appeal for the Philippines, go to: http://www.caritas.org.nz/where-we-work/emergencies/philippines-typhoon-haiyan