Philippine Ambassador meets with CEO of Tauhara North NO2 trust in Taupo, New Zealand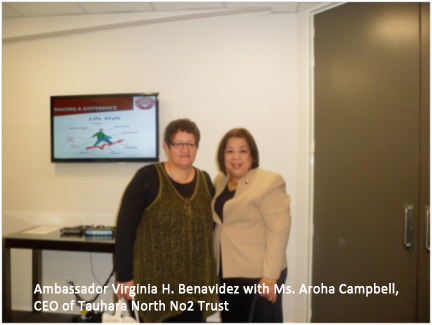 Recalling the first geothermal power plant built in Tongonan, Leyte in 1979 using New Zealand's expertise and technology in geothermal exploration, Ambassador Benavidez shared with Ms. Campbell the Philippine Government's priorities in developing geothermal energy which is currently supplying 2,000 megawatts for electricity and another 2,000 will be developed to increase the country's renewable energy mix.
Ms. Campbell provided a comprehensive briefing on the background and responsibilities of the Trust. She explained that the Trust is a Maori Trust which manages Maori-owned land blocks and shares for the benefit of the Maori owners. The Trust was set up in 1992 to manage Maori lands covering an area of 326 hectares in total in the Rotokawa Reservoir. It has administered and managed said lands by investing in the energy business, particularly geothermal energy, for its 699 recorded members with a share registry of 3,000 people. The Trust, according to Ms. Campbell, provides financial support and benefits in the areas of education, health, as well as various scholarship grants. Subsequent discussions focused on the on the role that Tauhara North No2 Trust plays in harnessing geothermal energy in Taupo. The Trust's joint venture projects in geothermal energy are the value added for the use of geothermal energy in the form of geothermal steam for greenhouses, dairy processing, and prawn farming and the Trust's continuing focus on assisting the beneficiaries, owners and the wider Ngati Tahu tribe. 
Ambassador Benavidez thanked Ms. Campbell for the fruitful meeting on the complementarity between the Philippines and New Zealand on utilization of geothermal energy for power generation.