Orientation seminar for Filipinos in Auckland kicks off Philippine Independence Anniversary celebrations in New Zealand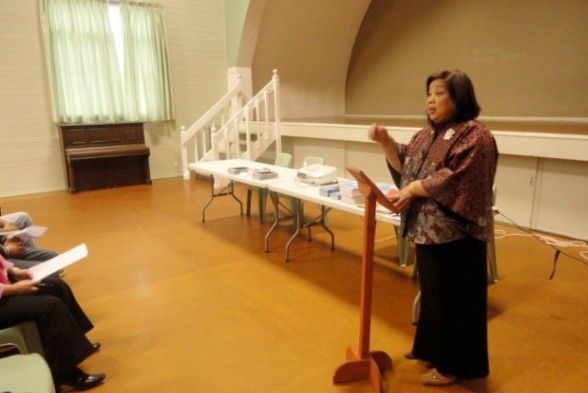 Presented by the Philippine Embassy and the Philippine Honorary Consulate General, an Orientation Seminar for Filipinos in Auckland was held on 25 May 2013 at the Good Shepherd Church Hall, in Balmoral, Auckland. This marked the start of a series of activities celebrating the 115th anniversary of the proclamation of Philippine Independence. The first ever orientation seminar was aimed at providing Filipinos with useful, relevant and up-to-date information on several aspects about living in New Zealand.
Philippine Honorary Vice Consul Virginia Russell welcomed the participants from all over Auckland and neighboring areas who eagerly attended the event despite the heavy rain that afternoon. In her welcome remarks, Philippine Ambassador Virginia H. Benavidez reiterated the importance of being informed of the laws, regulations and systems of the different sectors in the adopted country, as well as seeking assistance from appropriate agencies to avoid expending of unnecessary resources and to prevent future problems and complications.
Honorary Consul General Paulo Garcia and Atty. Gene Bagsic discussed legal matters of interest to Filipino migrants, including immigration, wills, enduring powers of attorney, relationship property, dealing with the police and courts, marriage, civil union and divorce. Specific scenarios were shared and discoursed to provide clearer picture of common cases encountered by Filipinos in New Zealand.
Settlement Support Coordinator Ms. Cheng Goh talked about settlement support services and Council programmes for keeping ethnic communities informed. As discussed by Ms. Goh, Settlement Support offers latest and relevant settlement information, sound advice from experienced staff, helpful sign-posting to access the right services as quickly as possible, information seminars about New Zealand systems and way of doing things, referral to specialist services (such as interpreters, translators, disability support), opportunities to meet other newcomers and to become involved in the community, and connections with cultural support groups.
Mr. Brendon Hickey, Libraries Adviser-Multicultural Service Development, was the speaker from Auckland Council. He said that through Auckland Libraries membership, settling into New Zealand and the Kiwi workplace will be more successful, with the accessibility and wealth of information available in the library. As well as lending books, DVDs, magazines and newspapers in many different languages (including from the Philippines), the library offers a wide range of free programmes, events and activities for the whole family.
Dr. Cecilia F. Aquino discussed the education system and student's pathways in New Zealand. She graciously responded to all queries asked of her. Dr. Aquino is Academic Manager/Principal of AWI International Education Group, Director of MAC PHILS Consulting Limited, and Trustee of NZ-SCOT Charitable Trust.
The event was such a success. Participants were enriched with more information on a number of areas that impact on their lives as migrants, workers or students, paving the way to a smoother move to New Zealand. With the positive feedback and recurring requests from the participants and other Filipinos to hold another similar event, the second and third orientation seminars are scheduled to be held in the second half of 2013.