Philippine Embassy hosts Philippine Presidents of State Universities and colleges (SUC) in Wellington, New Zealand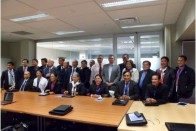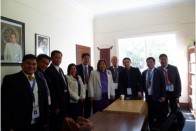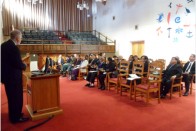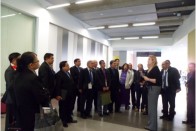 The Embassy of the Philippines hosted the twenty-four (24) member delegation of the Foreign Academic Trip (FAT) of the Development Academy of the Philippines (DAP) for Presidents of State Universities and Colleges (SUC) during the Wellington-leg of their visit to New Zealand on 06 June 2012. The delegation visited New Zealand on 02-08 June 2013 as part of the DAP's Executive Course in Education Management and Leadership (ECEML) for presidents of SUCs. The academic tour of New Zealand universities focused on acquiring knowledge on best practices from foreign counterparts in terms of leadership and management and fostering partnerships with foreign universities, government agencies and private industries.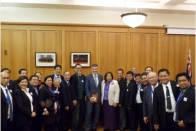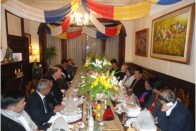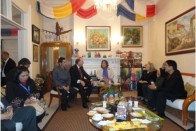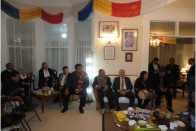 Ambassador Virginia H. Benavidez and Consul Arlene Gonzales-Macaisa assisted the delegation in coordinating identifying appropriate contact persons from New Zealand's leading universities and dairy institutions that the DAP delegates visited during the Study Visit as well as organized meetings with relevant New Zealand government agencies.
On 04 June 2013 in Hamilton, the ECEML Delegation visited Fonterra, a New Zealand multinational dairy co-operative owned by more than 10,000 New Zealand farmers and is responsible for approximately 30% of the world's dairy exports. The delegation met with Mr. Tony Eyres, General Manager for Operations on International Farming Ventures and was given an overview of the company. A visit to one of Fonterra's dairy farm co-operative was also arranged by Fonterra for the delegation in order to show them the practical side of the dairy business.
The delegation visited the University of Waikato in Hamilton on 05 June 2013. The University is considered to have a world-class education and research portfolio, particularly in the field of dairy and agriculture, with strong international links to advance knowledge in said area of endeavour. The delegation's visit focused on learning more about the dairy industry of New Zealand, specifically on what educational programs are being undertaken by Waikato in cooperation with dairy enterprises.
In Wellington, the delegation visited the Ministry for Primary Industries (MPI) on 06 June 2013 where they were briefed by Mr. Gavin Romayne, Senior Policy Analyst, International Relations unit of MPI on the current status of New Zealand in terms of agricultural growth, progress, and competitive advantage. Moreover, Mr. Joseph Montgomery, Manager of MPI's Primary Growth Partnership (PGP), a government-industry initiative that invests in significant programmes of research and innovation to boost the economic growth and sustainability of New Zealand's primary, forestry and food sectors, provided the delegation on the responsibilities the PGP and how it contributes towards boosting productivity through on-going investment in innovation and delivering long-term economic growth and sustainability across the primary sectors, from producer to consumer.
The Embassy also organized a visit and briefing for the delegation at the Victoria University of Wellington (VUW) in coordination with Professor Rob Rabel, Pro Vice-Chancellor International. Professor Charles Daugherty, Assistant Vice-Chancellor for Research and Dr. Theresa Sawicka, Manager of the Research and Faculty of Graduate Research presented an overview of Research at VUW. Ms. Rochelle Finlay, Senior Portfolio Manager of the Research Office delivered a presentation on VUW's Links with Industry. She discussed VUW's industry collaborations which provide vital funding and support for research projects across a range of disciplines. Many of VUW's research groups have developed mutually beneficial relationships with industry, as have individual researchers.
Furthermore, a presentation on Vic Link Limited (Viclink) was given by Ms. Anne Barnett, Senior Commercialization Manager. Viclink provides additional skills and resources to turn VUW's cutting-edge research into potentially global businesses with social, environmental and economic benefits for New Zealand and worldwide. Viclink works closely with the Research Office. A hosted tour of The MacDiarmid Institute was conducted by Professor Kate McGrath, Director of the Institute with Mr. Chris Dean, Portfolio Manager of the External Research Funding Unit. The MacDiarmid Institute is New Zealand's premier research organisation concerned with high quality research in Advanced Materials and Nanotechnology. According to Professor McGrath, the MacDiarmid Institute's researchers have had some notable successes in commercializing their research and have provided valuable support to a number of emerging companies in New Zealand.
A private tour of New Zealand's Parliament Building was also undertaken and was led by Mr. Mike Lee, Tours Supervisor of Parliament's Visitor Services Branch. At the Parliament, the delegation was met by Ambassador Roy Ferguson who provided a short history of the Parliament building and New Zealand's government process. After the tour, the delegation had the opportunity to meet and interact with Honorable Nathan Guy, Minister of Primary Industries.
Ambassador Benavidez hosted the delegation for an informal lunch at the Embassy Chancery, and a fellowship dinner at "Ang Bahay", the official residence. In both occasions, Ambassador Benavidez highlighted the importance of the visit of the Presidents of the SUCs and the vital role of DAP in opening doors for greater collaboration with the relevant universities and institutions in New Zealand. In behalf of the participants, Dr. Gabby Lopez, Supervising Fellow of DAP, thanked the Philippine Embassy for the invaluable assistance, generous hospitality and excellent arrangements extended to the group. The Presidents of the SUCs unanimously said that they found their first visit to New Zealand enlightening and meaningful and look forward to fostering closer people-to-people linkages with New Zealand especially in the academic and agriculture sectors.