Philippine Ambassador calls on the Mayor of Grey District, New Zealand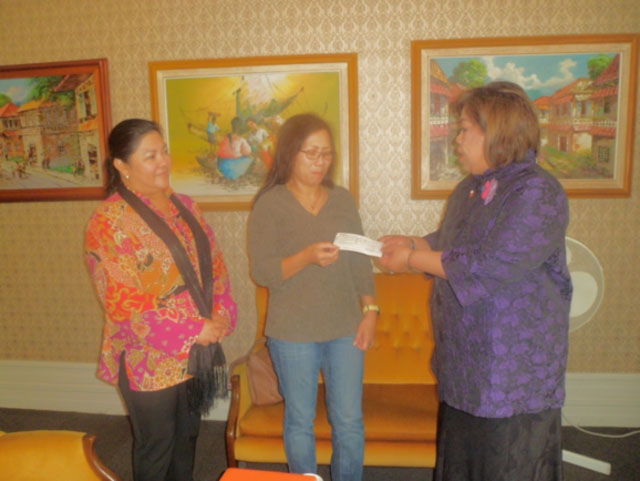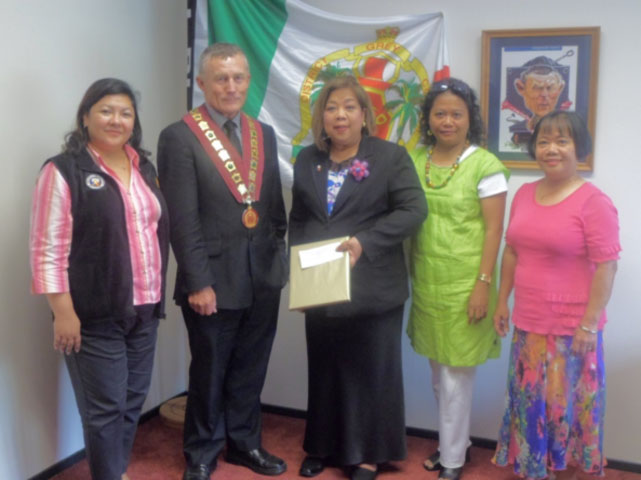 In line with the Philippine Embassy's continuing efforts to promote closer ties with New Zealand's local governments, Ambassador Virginia H. Benavidez, accompanied by Consul Arlene Gonzales-Macaisa, called on His Worship Mayor Tony Kokshoorn of Grey District in the South Island of New Zealand on 07 December 2013. The meeting was made during the simultaneous delivery of the Embassy's Mobile Consular Services for the benefit of Filipinos in Greymouth and the surrounding cities of the South Island on 05-10 December 2013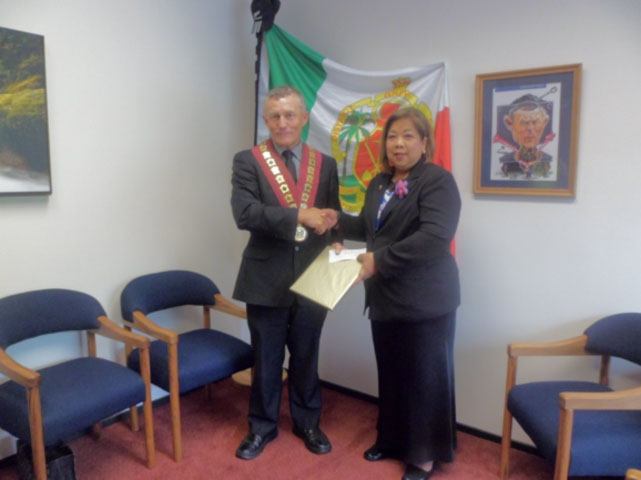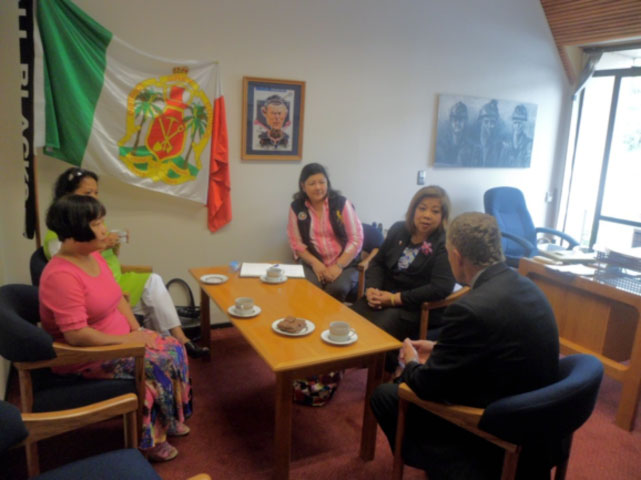 Mayor Kokshoorn warmly welcomed Ambassador Benavidez and stated that Filipinos are thriving members of Grey District society. He expressed his admiration for the Filipino people's work ethics and devotion to family. The Mayor stated that Filipinos "work like Trojans" and they have a reputation for getting the job done. A friendly and an open outlook in life is also a major factor as to why Filipinos have succeeded in endearing themselves in New Zealand communities. He expressed his sadness over the devastation and tragic loss of lives which Typhoon Haiyan wrought in Central Philippines.
Ambassador Benavidez expressed her deep appreciation to Mayor Kokshoorn and shared with him of the outpouring of support, solidarity and sympathy which the Philippines and Filipino people have received from the Government and People of New Zealand in the aftermath of Typhoon Haiyan. She said the incredible response by the public throughout the North and South Islands who are undertaking fund raising drives in local councils, private companies, schools, media, civic clubs, individuals, families, churches, associations and organizations, celebrities, Red Cross, UNICEF, Caritas, Save the Children New Zealand, among others, and in every sector of New Zealand society to aid victims of Typhoon Haiyan are truly overwhelming, overflowing and outpouring.
Ambassador Benavidez also informed the Mayor that Filipinos in New Zealand, like their fellow Filipinos throughout the world, keep the true spirit of "Bayanihan" (volunteerism and coming together to help) alive in words and in deeds, especially in times of great need. She stated that "Home is where your heart is - although many of the Filipinos in New Zealand are now Kiwis on paper and have made New Zealand their second home, they still hold a special place in their hearts for the Philippines. They continue to endear themselves with the people of New Zealand and this has contributed immensely to the outpouring of empathy, generosity and kindness springing forth among New Zealanders".
Mayor Kokshoorn stated that the Filipino people have a great sense of community spirit, family ties, and a "roll-up-your-sleeves" work attitude that is close to the heart of New Zealanders. He said that he knows the Filipino people will rise above the devastation of Typhoon Haiyan and that their Christian faith will serve to strengthen them and the nation. Mayor Kokshoorn then handed Ambassador Benavidez a personal donation for victims of Typhoon Haiyan which the Ambassador received with heartfelt gratitude and informed him that she will personally see to it that the donation will be placed in a rehabilitation fund for the on-going restoration and reconstruction of homes, schools, infrastructure and livelihood in Central Philippines.
Ambassador Benavidez thanked Mayor Kokshoorn for the meeting, and looked forward to further collaboration in projects to enhance people-to-people ties between the Philippines and New Zealand.
On 12 December 2013, Ambassador Benavidez formally turned over Mayor Kokshoorn's personal donation to Ms. Rolyn Demafiles, Secretary of the Federation of Filipino Associations, Societies and Clubs in New Zealand, Inc. (FFASCNZ Inc.). The donation will be included in the Federation's ongoing fundraising drive for victims of Typhoon Haiyan and will be placed in the rehabilitation fund for the on-going restoration and reconstruction of homes, schools, infrastructure and livelihood in Central Philippines.