PHL Embassy participates in the activities of the Wanganui Filipino Association in New Zealand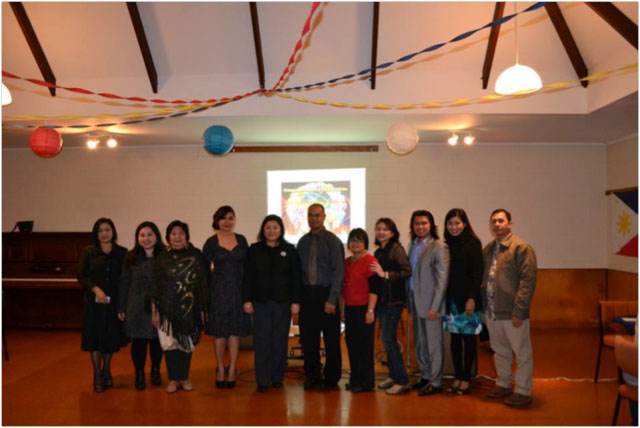 Upon the invitation of the Wanganui Filipino Association (WFA) of New Zealand, First Secretary and Consul Arlene Gonzales-Macaisa served as the inducting officer and guest speaker for the new set of officers of the WFA on 29 June 2013 in Wanganui, New Zealand.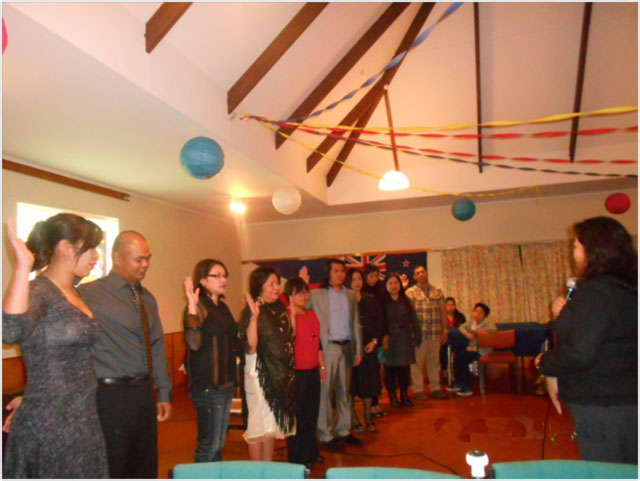 The WFA came into existence on the 01 March 2008 when Filipinos in Wanganui got together for a barbecue at a beach in Castlecliff, Wanganui. It is a non-profit organization created and organized to further promote closeness among Filipino migrants in Wanganui, New Zealand. It provides an avenue for Filipinos to connect with one another, share experiences, news, thoughts, ideas, extend assistance to fellow Filipinos and promote Filipino culture.
The WFA has been actively involved in many of Wanganui's community activities such as the annual Christmas Parade where the WFA has received major awards for two consecutive years for their creativity and cultural showmanship. The Association also has actively participated in cultural events hosted by the Wanganui Council - the Taste of Culture and Festival of Culture. The WFA is also active in the summer and winter League Basketball leads the Filipino Choir at St. Mary's Church.
The newly inducted WFA officers for 2013-2015 are Ms. Jo Anne Letigio, President; Mr. Lawrence Peralta, Vice President; Ms. Queenine Cabatingan, Secretary; Ms. Ludy Oliva, Treasurer; Mr. Dennis Bermillo, Auditor; and Ms. Archielyn Valentine, PRO. Committee Chairpersons include Ms. Joy Ann Waayman, Committee on Election; Mr. Ronald Pelayo, Committee on Sports; Ms. Nilda Jacobe, Committee on Social and Cultural Activities; Ms. Joan Harder, Committee on Ways and Means; and Ms. Maria Anabel Bermillo, Committee on Youth Affairs.
In her remarks, Consul Gonzales-Macaisa stated it is evident that though members of the WFA have built new lives in New Zealand, they still maintain their sense of being Filipino as they take on the responsibilities of being part of the WFA. Such an organization mirrors the inherent values that define the Filipino wherever they may be. Each officer or member has the responsibility of taking care of their own particular duties whether as president, vice president, treasurer or a member. Each one must do his part so the whole will thrive and grow. In carrying out their roles and responsibilities, officers and members of the Wanganui Filipino Association or in a country like the Philippines, there should always be: TRANSPARENCY, ACCOUNTABILITY, and PARTICIPATION. She shared the good news that today in the Philippines, the country is seeing the results of these three important characteristics: the Philippine economy is growing at rates that surpass even our own estimations; there is a renewed optimism in our government policies under President Benigno S. Aquino III, a sense of justice and fairness prevails in society and true and lasting peace is finally in sight for Mindanao. These are the fruits of good governance. She further encouraged the new officers and members of the WFA to commit to each of their roles and take part in events or projects that reach out to their less fortunate countrymen back home in the Philippines. The WFA's solidarity will move the association forward and as they continue onwards, they should remain connected to the Philippines and contribute to the country's future development.
Current WFA President Jo Anne Letigio, for her part, expressed her willingness to continue the good works that her predecessors began. She vowed to continue to strive for the WFA's dream of creating a united Filipino Association in Wanganui. She mentioned that though they are now creating new lives for themselves in New Zealand, the Filipinos in Wanganui will always remember who they are and where they come from and that they will strive to give back to our kababayans who are less fortunate and are in need of assistance. Ms. Letigio also assured the Embassy of the WFA's support in its future undertakings.